Sponsored
Bathed in glorious summer light, waves breaking upon beaches of treasured fossils, laughter spilling out from country pub gardens and the addictive scent of fish and chips floating through the air – my childhood memories of the South West of England (Dorset, to be precise) will always be fondly remembered. 
Stretching from Cornwall to The Cotswolds, this collection of counties offers visitors the chance to hike through forests meeting friendly ponies, sun themselves on some of the best beaches in the land, devour freshly caught seafood, head on an island escape or wine and dine in now-trendy cities such as Bristol and Bournemouth. But sadly, many visitors to the neck of the woods I called home make a beeline to the most famous spots, such as St Ives, which get packed in high season and overlook so much more which this region has to offer.
Whether it's a sunny summer sojourn or a wrapped-up winter hiking trip, there are a plethora of idyllic destinations worth a detour and a whole host of Unique hideaways worth checking in to – here are just some of my favourite, and (for the most part) not as over-run places to visit in South West England.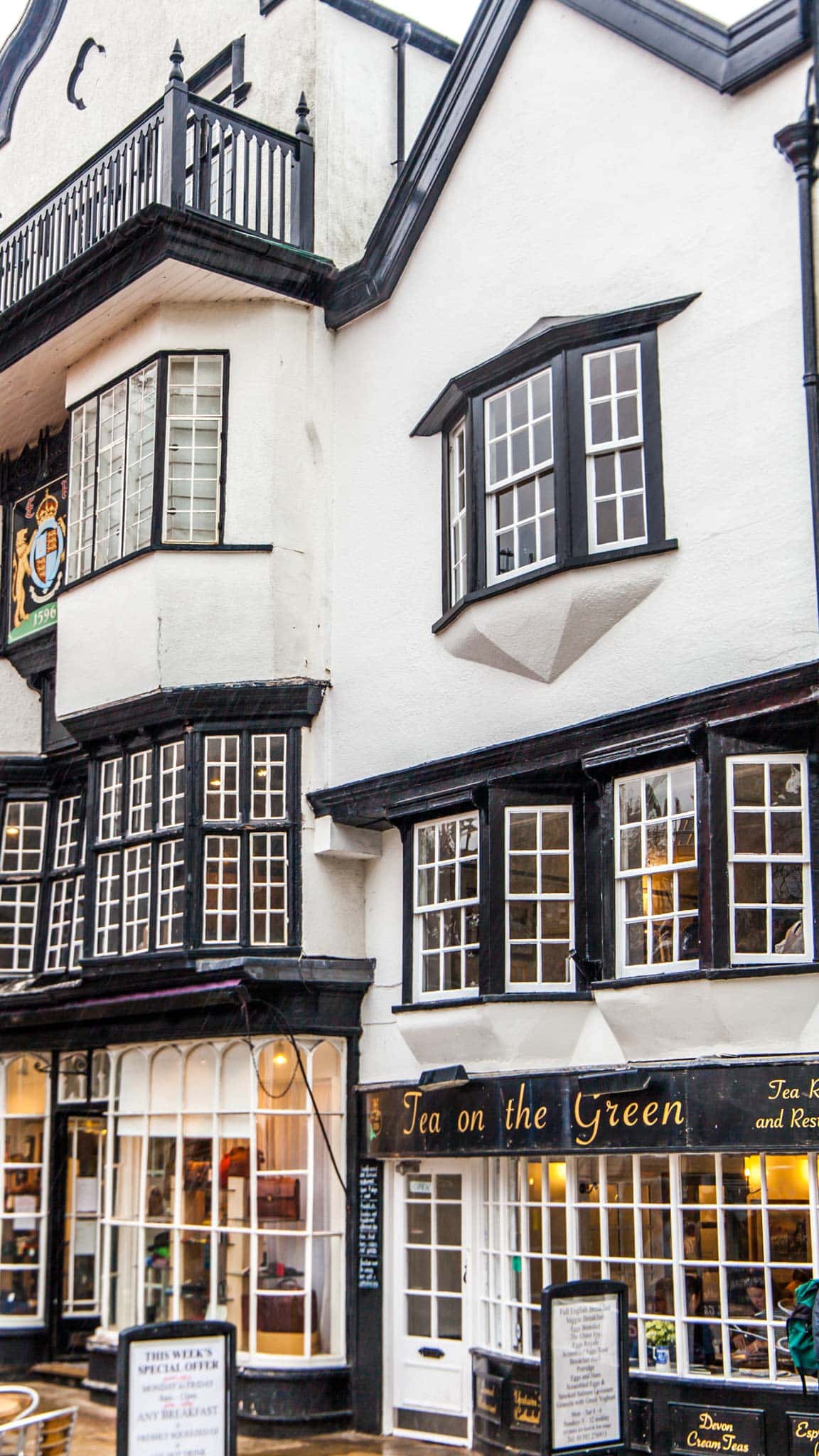 Exeter
The county town of Exeter is a delightful spot to visit on a tour of the South West. A historic walled settlement on the River Exe, facades of timber and crooked buildings line the streets. 
The impressive Gothic exterior of the Cathedral invites you inside to admire the vaulted ceilings and magnificent windows. At the same time, it makes for a great base to explore nearby Dartmoor National Park, verdant and ripe for hiking or horse riding adventures. For something a little special, venture into the medieval underground passageways, once used for transporting water, for a deeper diver into Exeter's history.
Walking the streets of Exeter will give you an idea of its history, but the area surrounding the Cathedral was my favourite part. White-wood fronted tea-houses, wonky ornate buildings and of course the Cathedral itself.
If you are looking for a bite to eat or a pint there are a few cool pubs in the area. Mill on the Exe serves up a mean fish and chips and is a converted mill along the cities river, wood panelling and an outside deck on the river makes for a decent English pub. A little out of town, and now annoyingly a Wetherspoons (a pretty basic British pub-chain) is The Imperial, but it's worth shining in got a cheap beer and to see the impressive architecture of this converted hotel, especially the barrel-vaulted and curved shape of the conservatory space.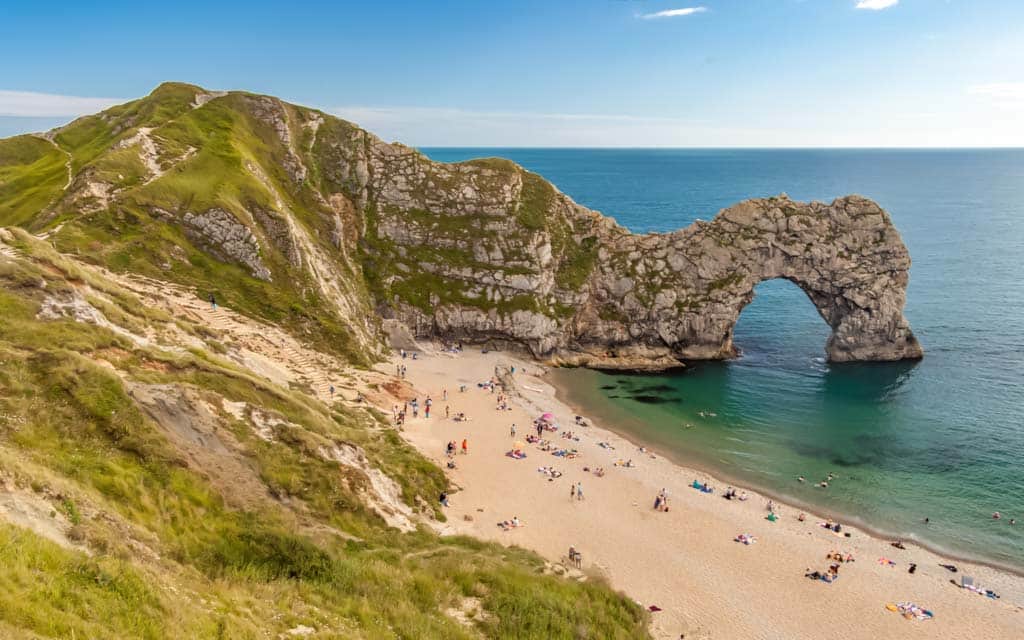 Jurrasic Coast
Hands down my favourite place in the UK (and only half an hour from where I was born), Dorset's Jurassic Coast is a mix of rugged cliff faces containing dinosaur fossils, clear blue waters with sandy beaches (no lie) and charming villages serving up the catch of the day.
On our Rabbies tour, we stopped at two of the most famous parts of the coastline, Lulworth Cove and Durdle Door.
Lulworth Cove is a picturesque village, with old stone pubs, ice-cream stands, bucket and spade combos hanging from shops and the cove itself, a near perfect circular bar of lapping water on pebbles.
Durdle Door, which sits next to beautiful Man O'War beach is a large rocky opening within the ocean, and sadly it's predicted it could fall within the next century. Take a close up look at the rocks along the coastline, and there is a fair chance you'll find a fossil dating back to pre-historic times.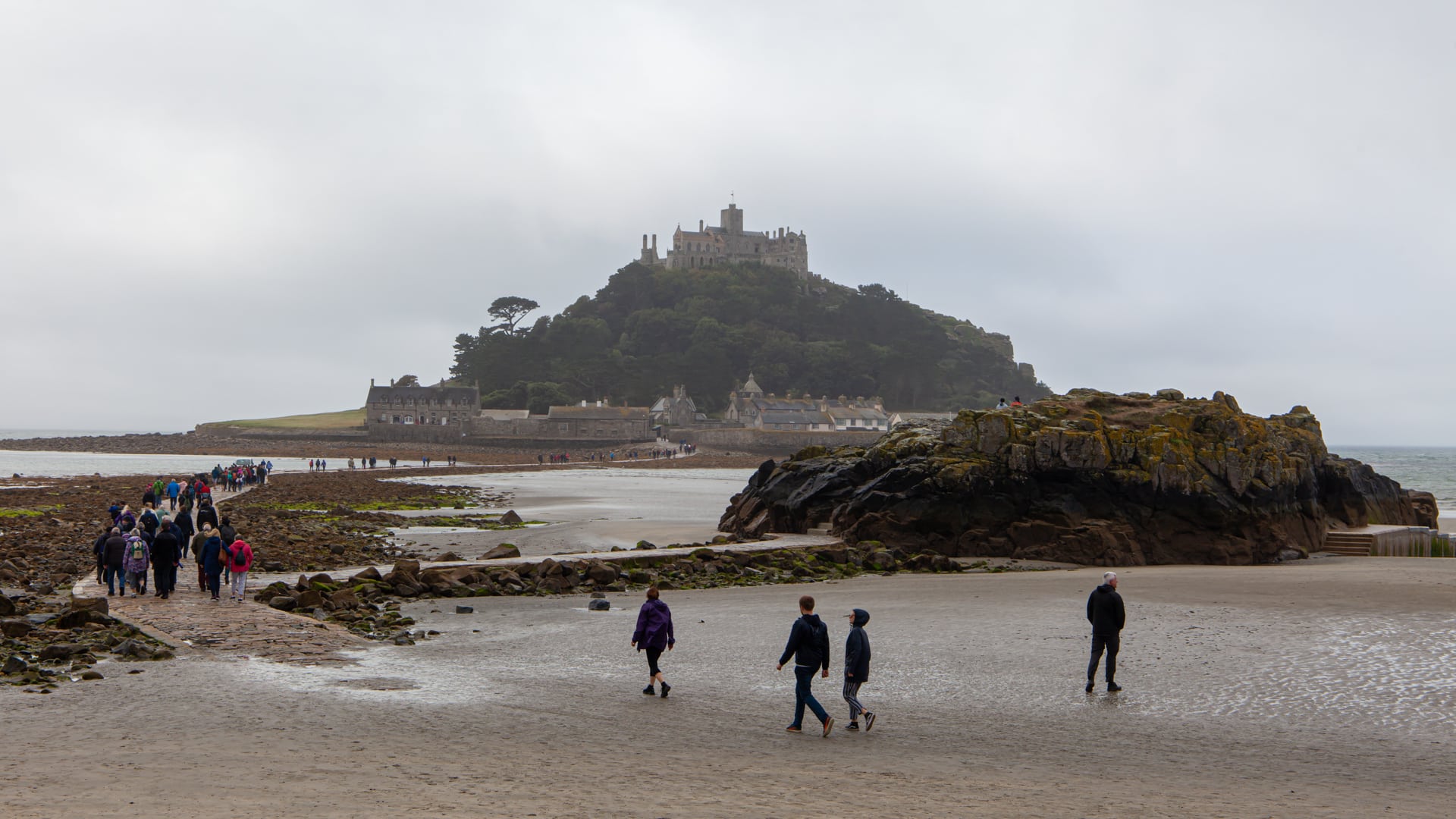 St Michael's Mount
While there is no denying it's firmly on the tourist track, the tidal island of Saint Michael's Mount – the 'sister' of France's Mont St Michel – shouldn't be overlooked. At low tide, it's possible to walk on water, so to speak, crossing from the Marazion Beach on the mainland over the causeway. Once back on terra firma, you can explore the castle and grounds, including the splendid castle gardens. 
Staying close by makes an ideal base to enjoy this slightly less hectic stretch of coast, with the Perranuthnoe to Porthleven coastal walk an absolute favourite of mine. For a magnificent view of St Michael's at golden hour, settle in around the fire pit of a luxury camping pod from a privileged position and admire the coast, including the Lizard Peninsula, in all its glory.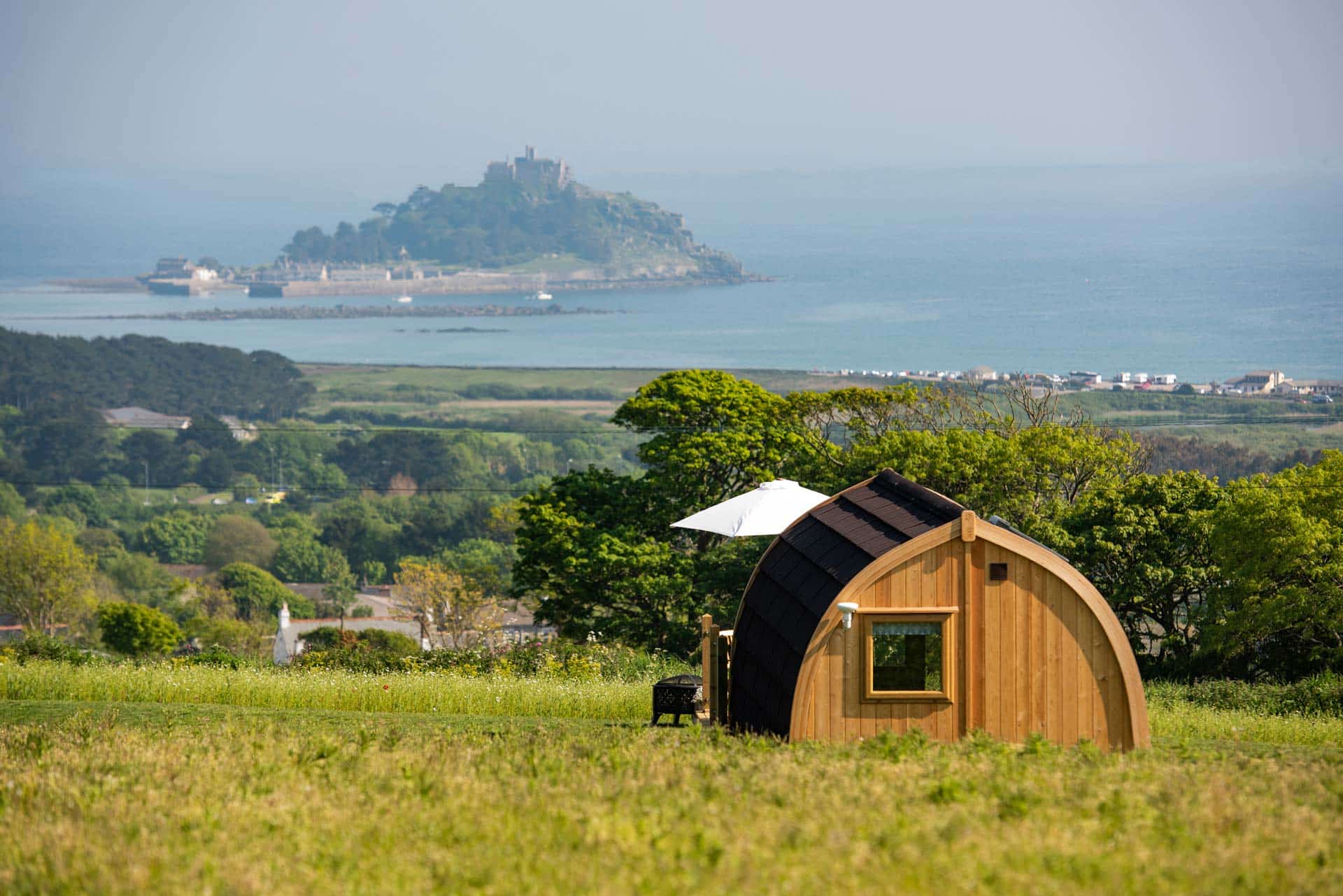 Castle Combe & The Cotswolds
Many of my family live in Wiltshire, home of the Cotswolds Area of Natural Beauty – and it certainly lives up to its name. With many summer holidays spent in nearby Chippenham visiting loved ones, Castle Combe has always been a delightful little village full of charm and good memories – but now it seems to have earned itself a reputation as one of the most picturesque villages in all of England, and the Instagram crowd has started flocking there. 
Don't let that deter you from visiting, though, as with 787sq miles in this preserved area and countless other quaint villages; it's a beautiful spot to spend a few days rambling and soaking up the best of the British countryside. 
Dartmouth
Set amongst all the magic of South Devon, Dartmouth can be scarce of visitors in the off-season, a profound change of pace from the summer months. Colourful houses are stacked up alongside equally colourful boats in the harbour, which winds up the river Dart inland – making it an ideal destination for all kinds of watersports. 
With National Trust properties and sights nearby, and the good-for-kids Woodlands Family Theme Park, it's an excellent base to explore Devon. While waterfront accommodation can get booked out quickly, escaping any crowds is more than possible by staying a little inland, whether it's camping, in another village, or getting in touch with nature at a jazzed-up yurt.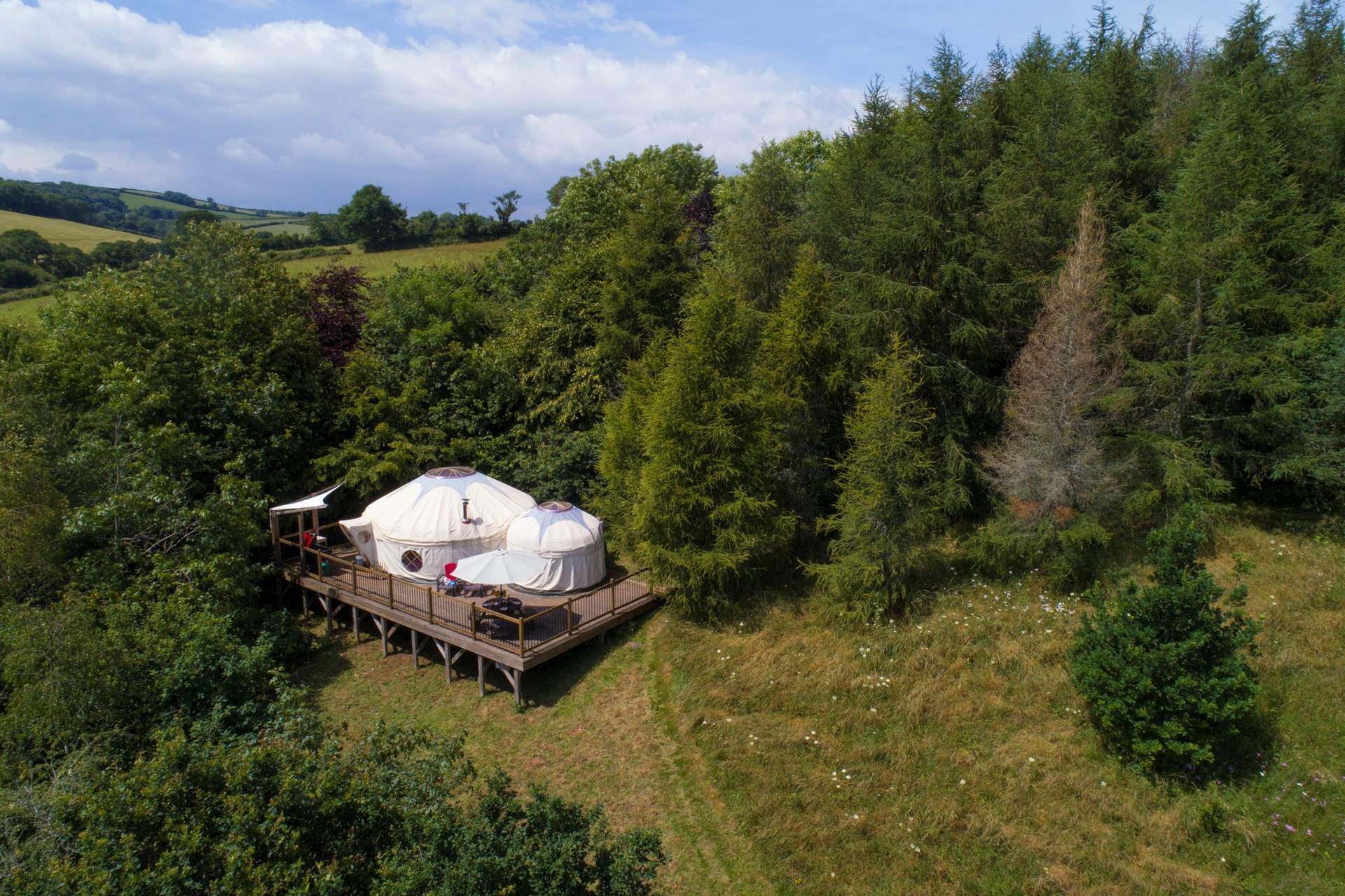 Cheddar Gorge
Set in the Mendip Hills of Somerset, where aptly nearby my brother worked in Cheddar Factory, this magnificent limestone gorge and cave system is well worth a stop on any journey down to the south coast – and the dramatic drive on the surrounding roads is as much part of the experience. 
Historically significant as the place where the oldest human skeleton in Britain was found, nowadays it's an adventure and nature lovers playground. Famous for its herds of goats (my favourites!), this private land does require a ticket to access the most popular parts, such as the hike up Jacob's Ladder steps. From the top of these rugged cliffs, some 450ft in the air, the cliff-top walk will leave you breathless in more ways than one!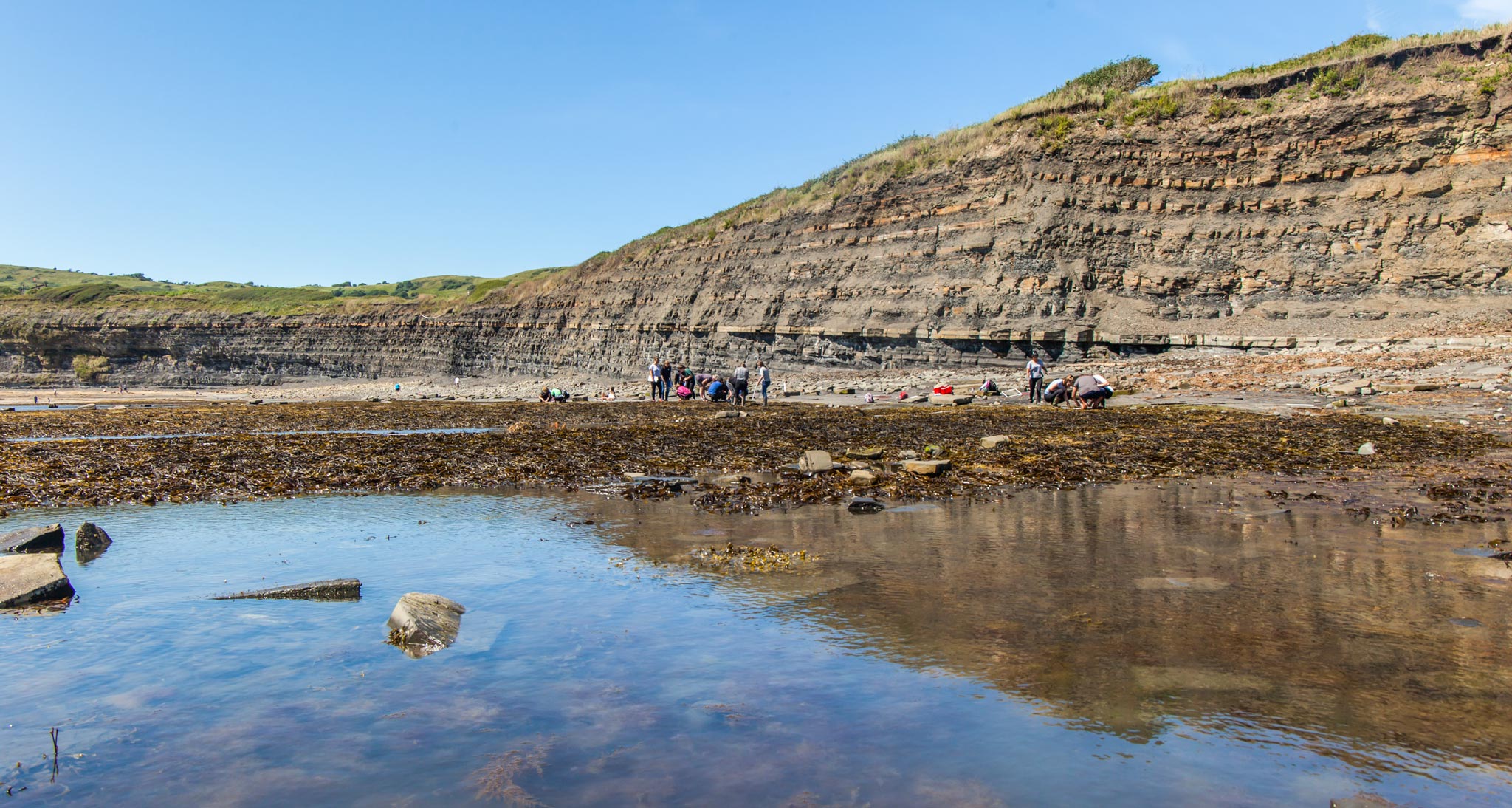 Chapman's Pool Beach & Kimmeridge Bay
While the Isle of Purbeck is no island at all, and the most visited attraction is likely is Old Harry Rocks, chalk towers rising from the ocean, this whole stretch of the Jurassic Coast is magnificent to hike along and embrace the refreshing coastal waters.
Sure, Durdle Door, further along, is where all the crowds go, and it shouldn't be missed, but if you want a more relaxed swimming spot, then Chapman's Pool Beach (although unguarded) is the place to do so! Slightly further along the coast is Kimmeridge Bay, where my Mum enjoyed her summer holidays as a kid – nowadays you must pay to enter and park on the private lane, so we don't visit as often. However, the mammoth photo print I gifted her one Birthday is a constant reminder of its beauty in their kitchen.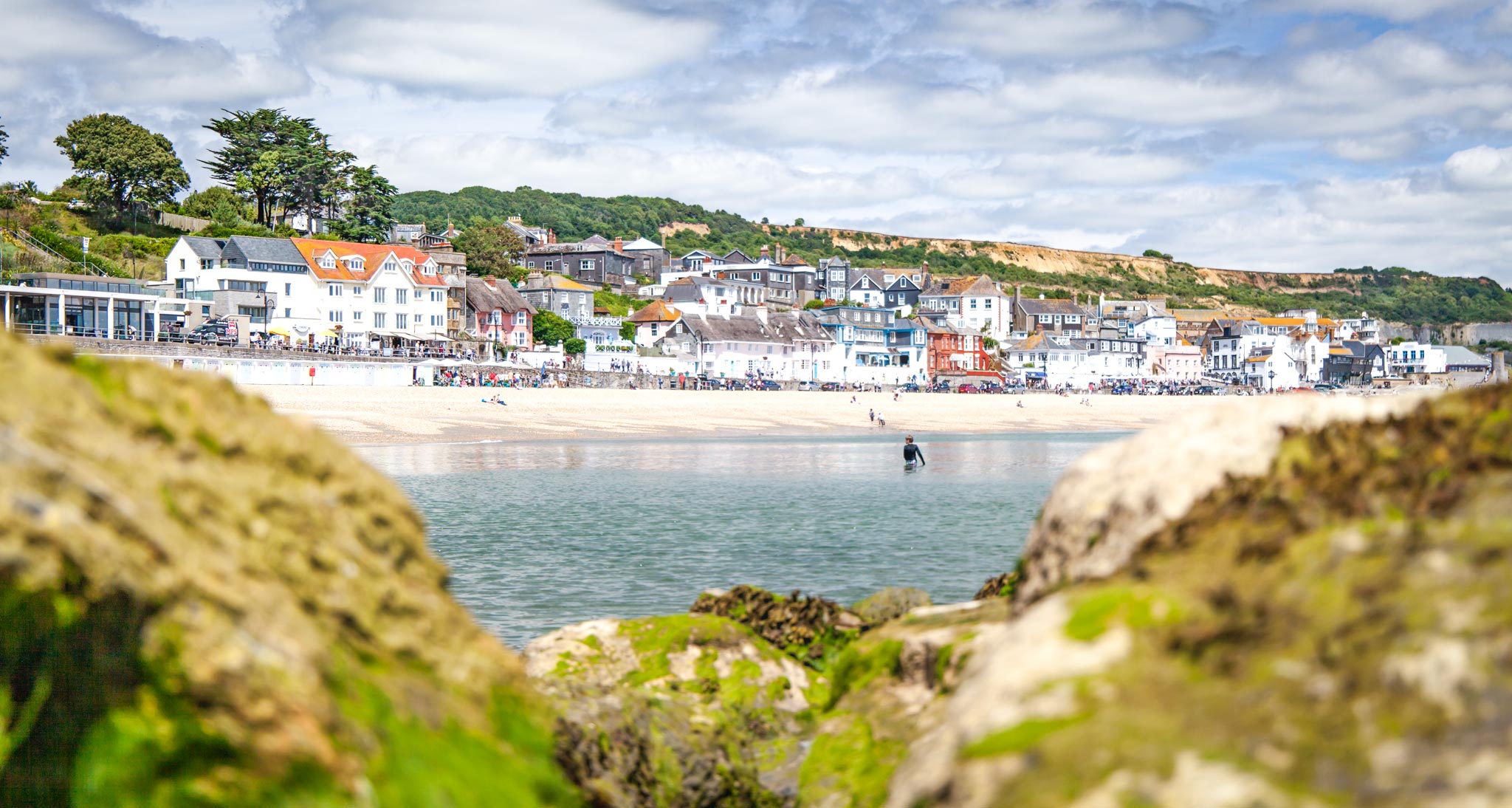 Lyme Regis
Another rather popular spot in Dorset is Lyme Regis, a seaside town like many of the others along the coast – however, for some reason, this one just feels 'special'. Every time my school friends' WhatsApp group comes alive with the chatter of us all returning for summer, it's usually here we set out sights on enjoying a few days away together. 
As with much of the coast, the ancient fossils that give the route its name can often be spotted here in the cliffs or by visiting the museums, and for the perfect morning waking to lapping waves, you can even sleep in a chalet right on the beach.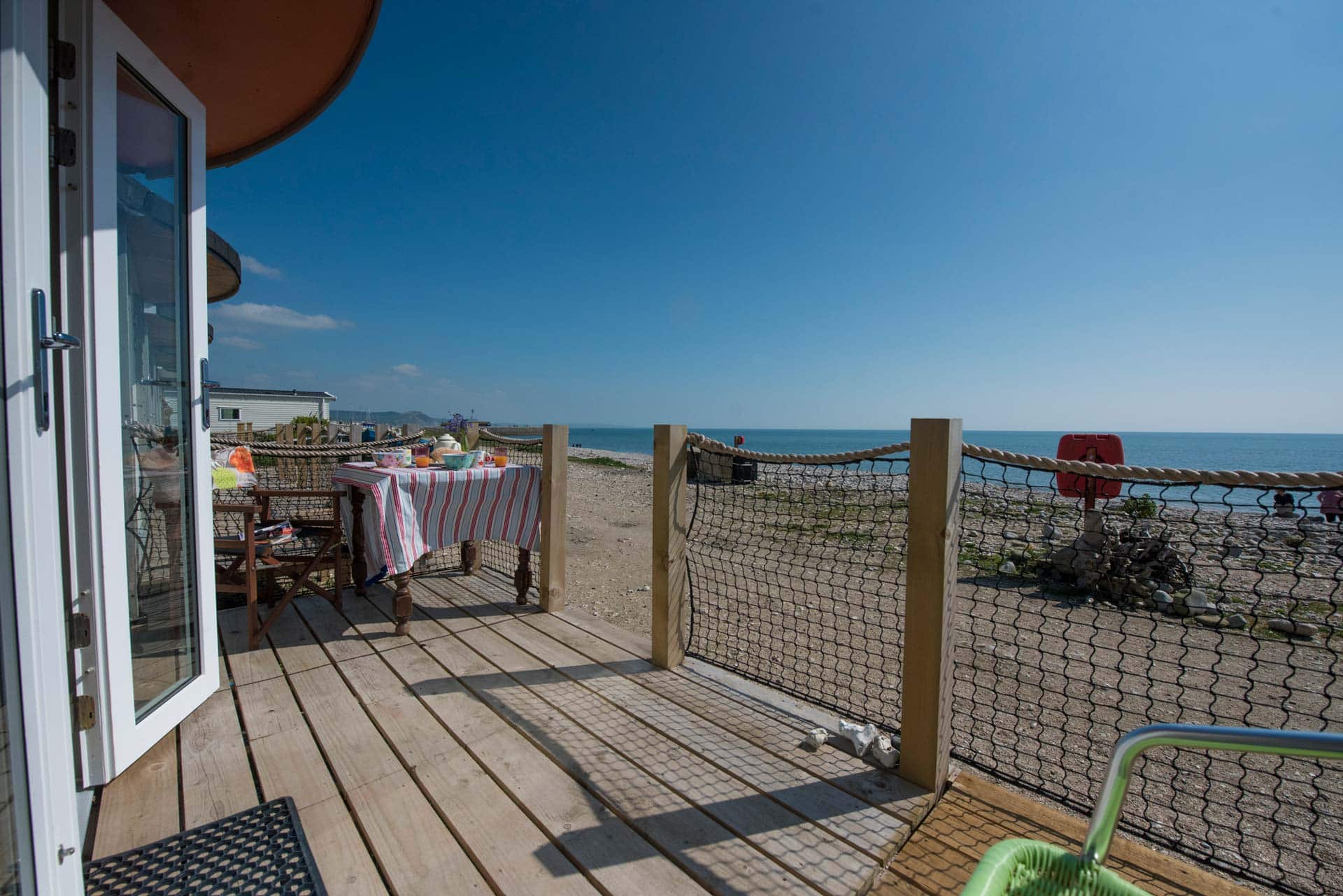 Brownsea Island
Managed by The National Trust and accessible by boat, this wonderful island of nature in Poole harbour was simply magical to me as a kid – I can only imagine the delight and wonderment on my face the first time I spotted Red Squirrels (of which they are preserved here) or Peacocks.
With a limit on visitor numbers, it never feels too busy here, and it makes for a wonderful day out – and it's even possible to camp on the island! 
Isle of Wight 
Scoot across to the Isle of Wight by ferry from Lymington, Portsmouth or Southampton, and instantly you'll feel like you have stepped back in time. I'll always cherish this place, thanks to a poorly planned trip to traverse around the whole island for charity with my dear friend Rhona when we were 15 and woefully unaware of how heavy a backpack could be – but with each step, the beauty overcame any regrets we had.
On a perfect summer's day, the beaches here will dazzle you, and on a clear night, the stargazing is mesmerising, especially if you are lost and camping. Hire a Kayak to take in the chalk needles rocks up close (or admire them from the chairlift) and burn through all your coppers at the amusement arcades of Shanklin – The Isle of Wight Festival is also a great weekend if you time the visit right. Camping, guesthouses, and hotels of all types can be found on the Isle, but to really feel close to the island life, you can even make your base onboard a yacht or houseboat.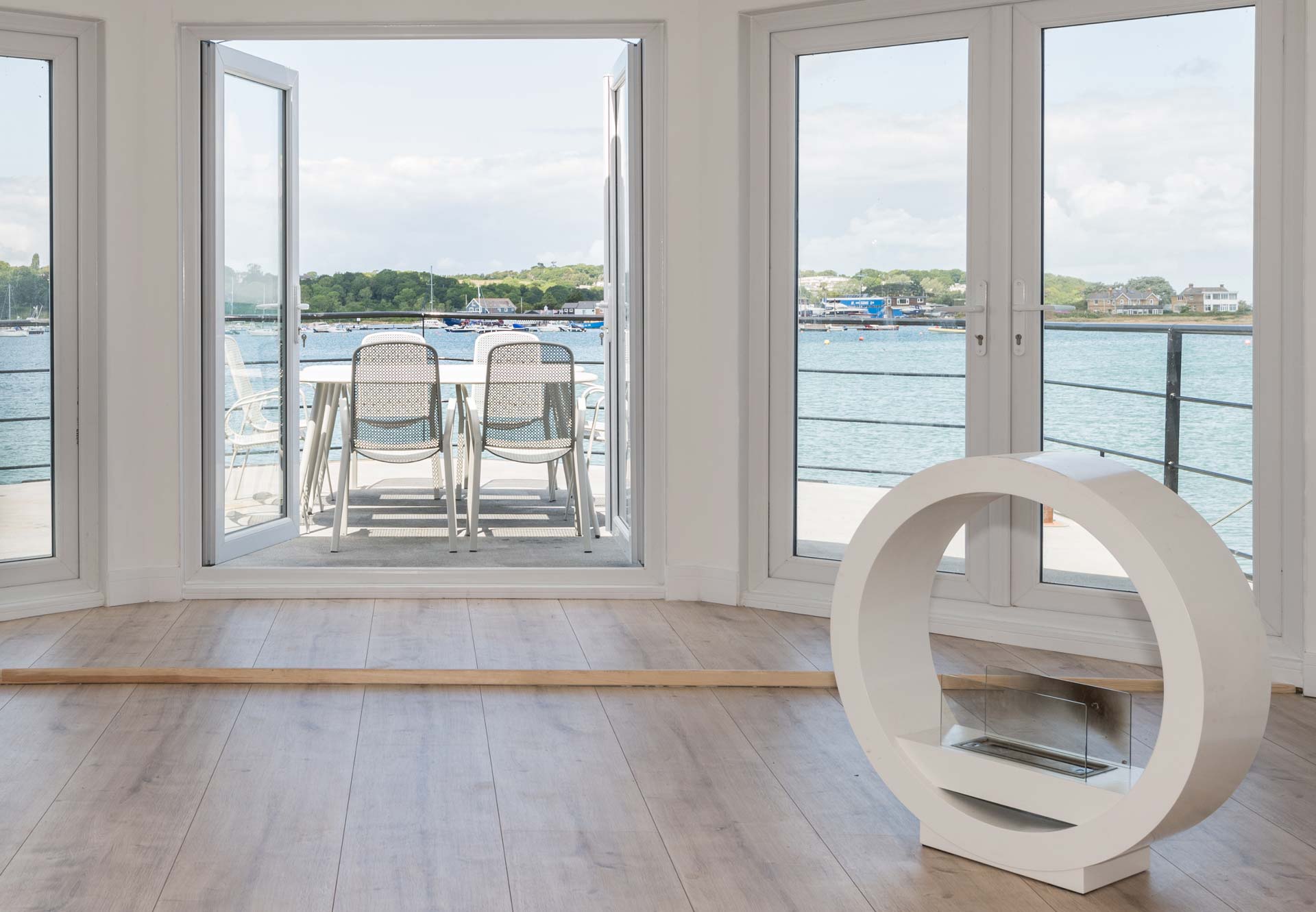 For any locals reading this, they will likely be shouting at the screen right now for omitting so many fabulous places in the South West of England because, well, we simply have so many places to choose from. Whether you want to rest up in a tree-house in the woods, bed down in a converted cart, or while away the days wistfully gazing at the ocean, you'll find plenty more unique places to stay in the region on the Unique hideaways website. For my inspiration, discover some of my favourite places to visit in England.
Source link:https://www.danflyingsolo.com/unique-hideaways-escapes-south-west-england/