Within seconds of opening the car door, the intense heat of southern Italy had neutralised the air conditioning. Pop music drifted around the deserted car park, and the large shopping centre looked incredibly out of place amongst the rolling green hills and fields.
We had left the rugged coastline life of Spritz in the oceans breeze, and Buratta in white-washed restaurants behind us earlier in the day. Climbing slowly up hills and through verdant farming lands, we had arrived in the province of Foggia, and it was this shopping centre that greeted us as we checked our sat nav and fuelled up with espressos.
Our first stop in Foggia was Bovino, resting in the Apennines and with a view across Puglia and the neighbouring regions. Climbing higher in our trusty rental car, eventually, the Norman Castle came into view.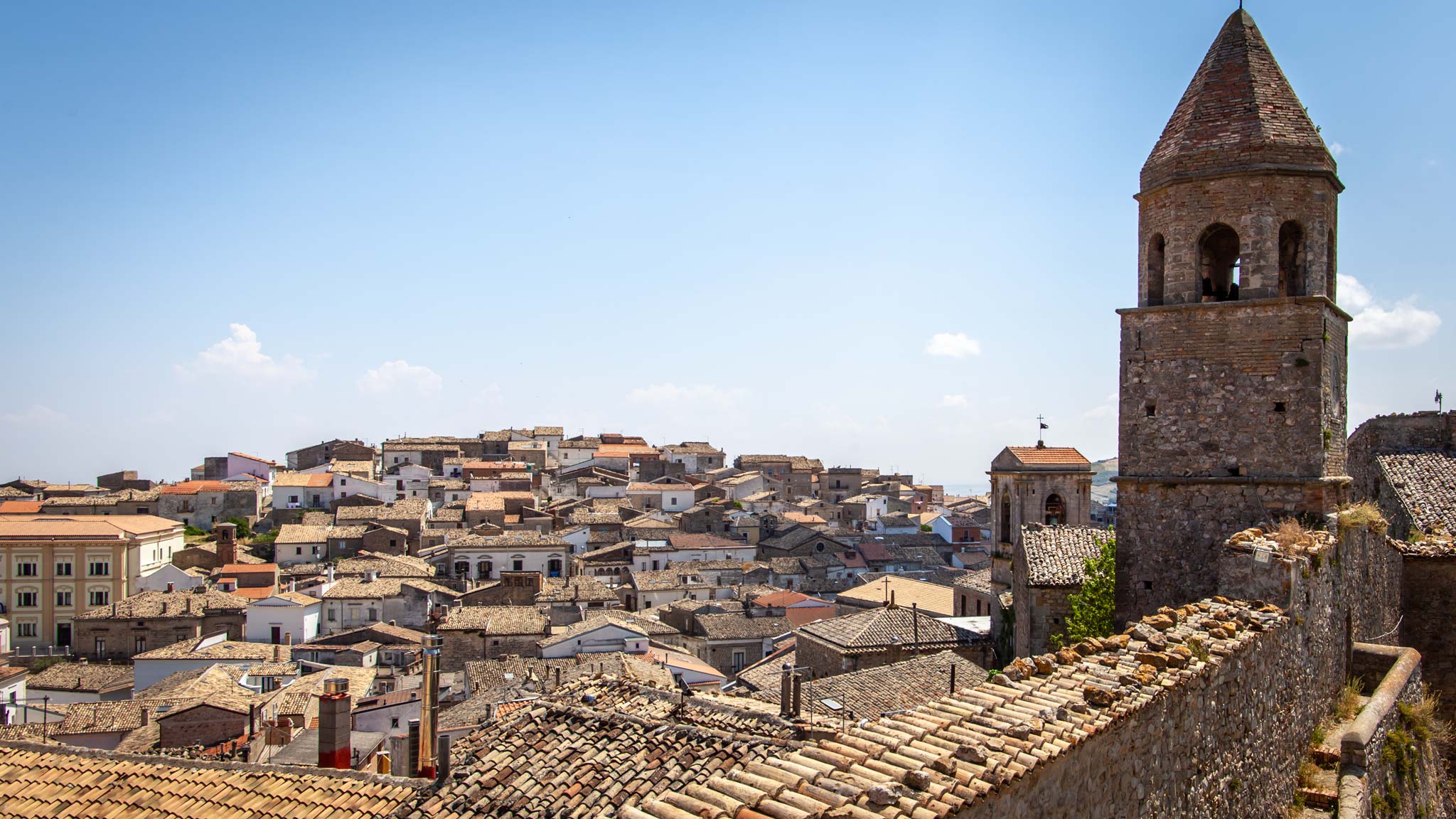 Parking was a breeze in Bovino, notable as during the start of summer we had found it harder to park in the more seasoned tourist spots of Puglia.
But here, in the mountains, fields and towns of Foggia, a more relaxed and indeed authentic Italy awaited.
A flat-capped gentleman strolled past is with fresh cream Cornettos, and across the street, a Nanna peered out of her second-floor window watching the world go by.
This is the Italy I really love, the small towns and villages where time stands still, and tradition reigns supreme. While I'm a sucker for this nation in all forms, from the big cities to the striking lakes, it's the hidden gems of Italy that have me coming back for more.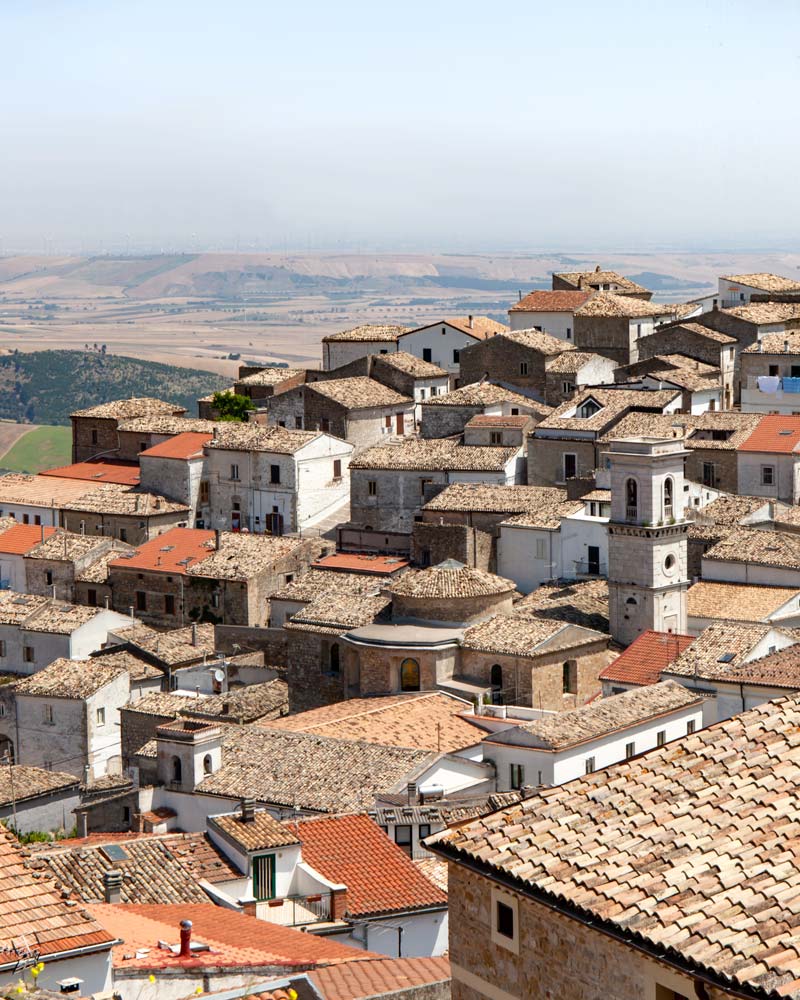 We slowly strolled into the castle, admiring the panoramic views from the top.
Rolling hills of farmland, broken by the wooded areas of the Daunian Mountains greeted us, while the red rooftops of Bovino seemed stacked and suspended on the mountainside.
We quickly learnt in Italy there is an official society for the 'Most beautiful villages of Italy' and Bovino is proudly on that list. As we walked the tiny streets, some cobbled, I started to appreciate why.
Even in the late weeks of June, this town was quiet and felt very different from Bari where we had spent the night before. There was an air of peace here, inviting you to check-in and switch off. To enjoy leisurely breakfasts and afternoon strolls.
To simply be happy at life's little pleasures.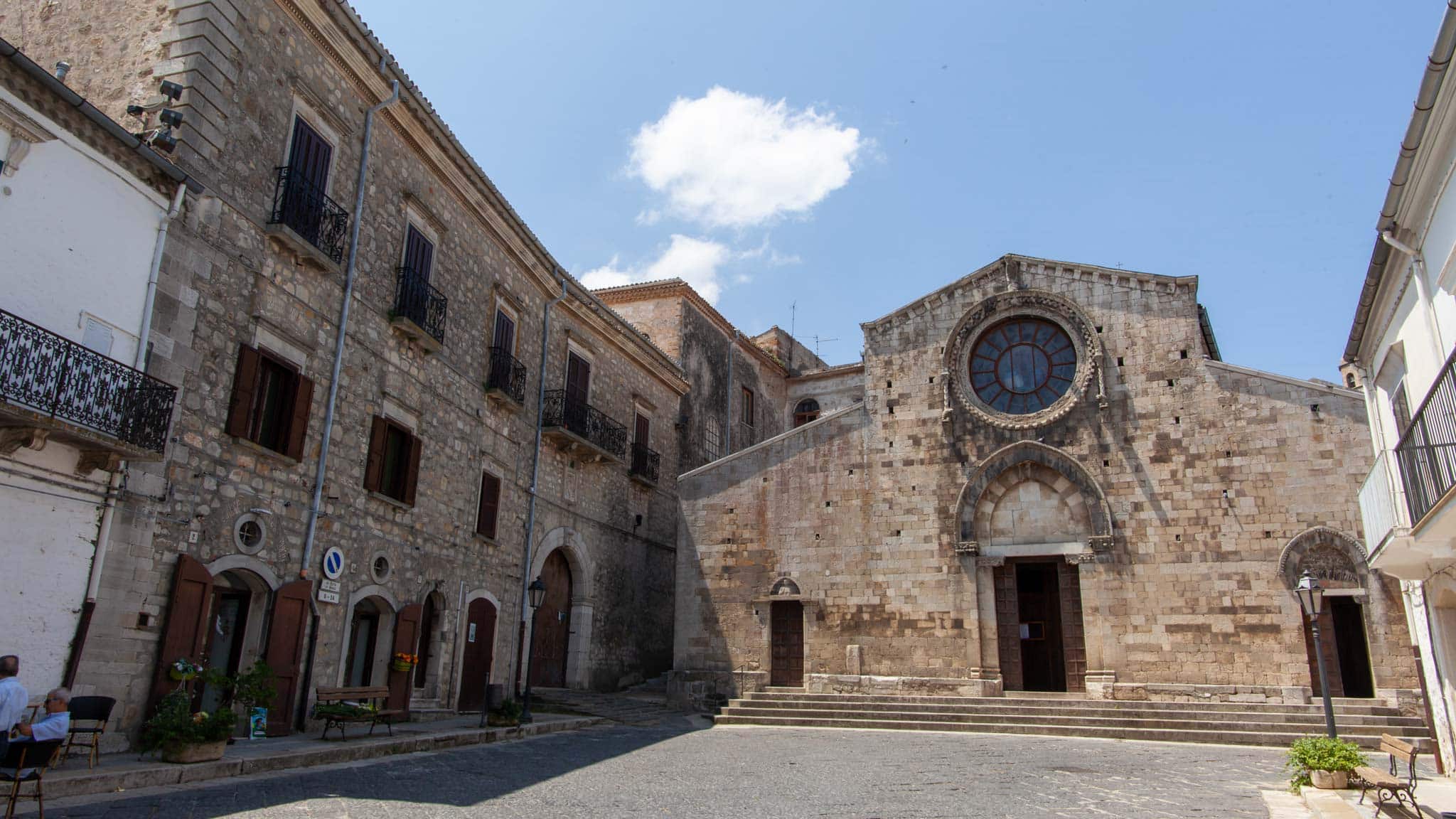 Knocking on a local door, we enquire to use the bathroom and are greeted by a broad smile and a look at the traditional crochet stitching going on in the living room.
A large trophy for this ladies work sat in pride of place on the mantle, and some Italian words were exchanged; the language lost on me, but the passion of this achievement not.
We approached the San Pietro Church, adorned by detailed artwork inside. On the square outside, we slip through a curtains entrance to a tiny coffee shop, for another hit of smooth espresso and some cooling water. Bovino was scorching today, perhaps why the streets were so empty.
Dating back over 2000-years, the history of Bovino is undisputed, and as the barman proudly told me, 'You haven't really been to Puglia unless you've been to Foggia'.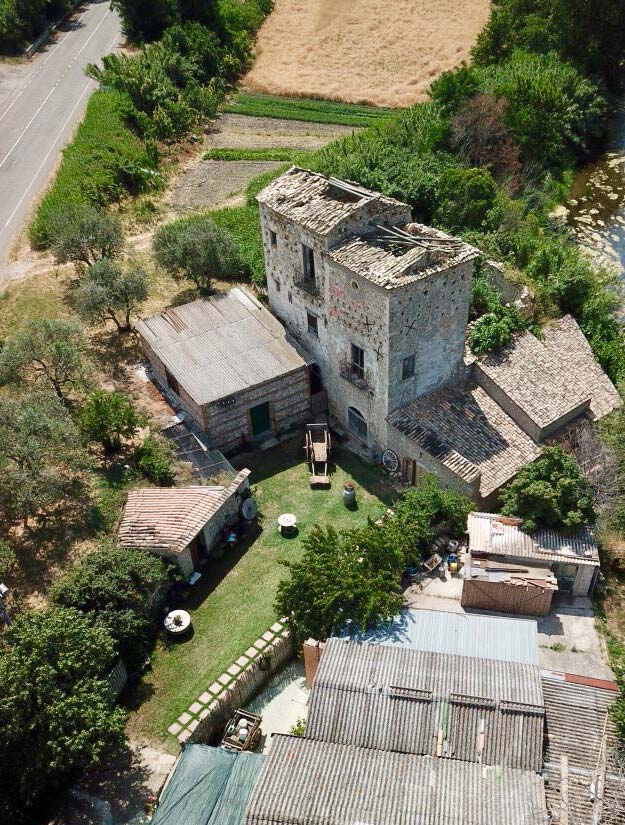 With rumbling stomachs and a now continual craving for Puligan cuisine, we took a short drive to an old water mill, very much still in use.
Today we would finally learn how to make the ear-shaped pasta the region is famous for, Orecchiette.
Spoiler alert: I wasn't very good at it.
The cuisine of Puglia is rooted in simple, usually cheap ingredients, that are turned into mouthwatering treats. And it was in these old waters mills that flour and grain were ground to make such delicious meals.
Arriving at the watermill, which dates back to the 1600's we were greeted with warm smiles and refreshing drinks; Olga and Massimo approached us like old friends, as they toured us around their watermill home.
Underneath the old structure, we saw the power of nature, as the streams of water plunged into the wheel, and then ground the flour above, a fine grain for the pasta making falling into a bucket.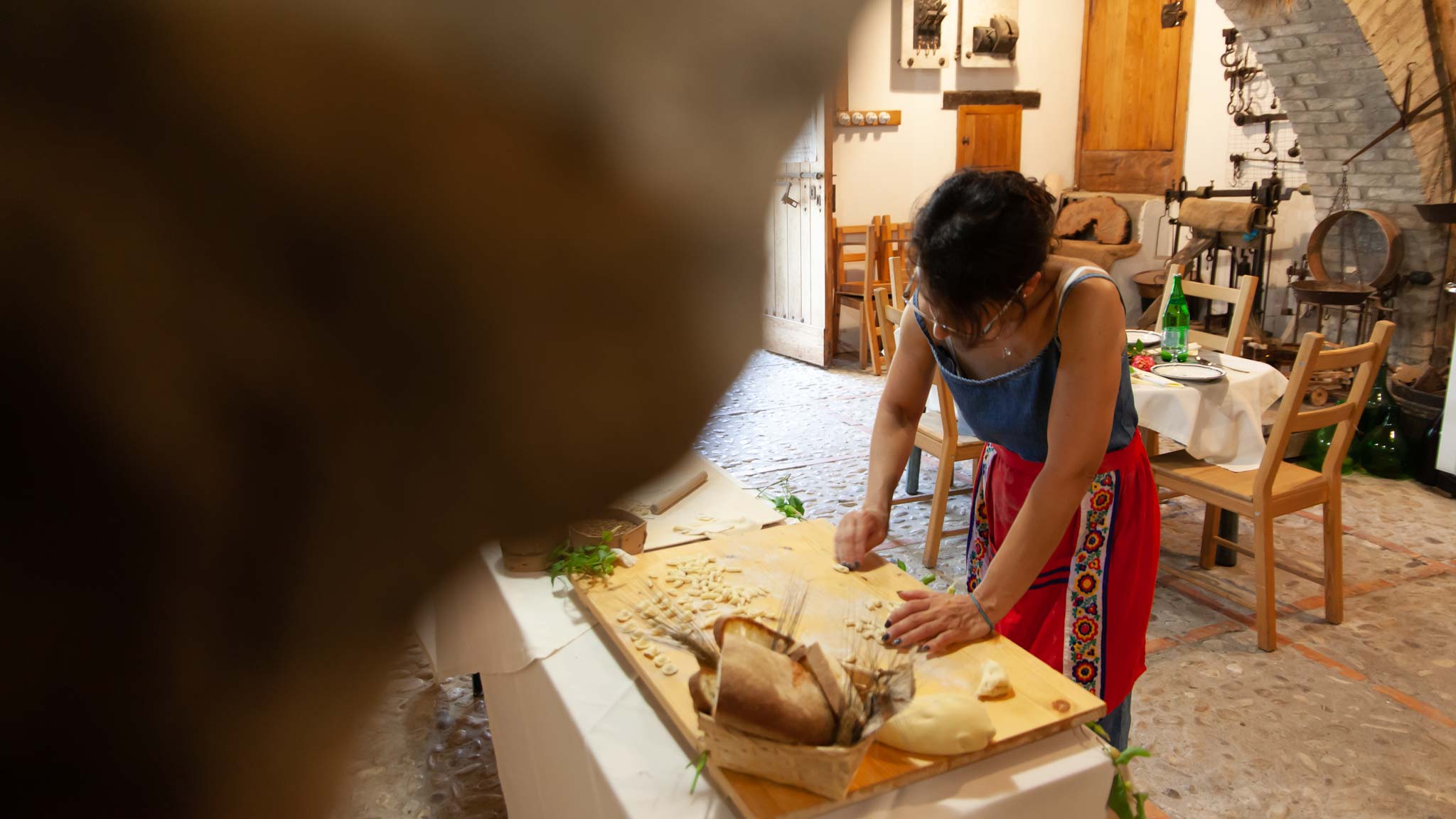 Olga effortlessly demonstrated how to make the dough firstly, and then roll it, finally slicing it and pressing down hard with her thumb to create the famed ear shape. As I had my 27th attempt, I resigned myself to the fact my thumbs just weren't going to produce the same quality of pasta shape as her professional hands had.
Luckily, we weren't eating my squashed mess of pasta though, and here in the shaded basement room of the watermill, we enjoyed a vast spread of local and traditional ingredients, all coming from within the region.
Just as we had chowed down on all the cheese, cured meats, olive oil and preserves we thought possible, Olga arrived with the most enormous bowl of pasta I'd ever seen. Janet and I burst out laughing, but both gave each other the look of we can do this. I'd been back in Italy over a week; I've no idea how I had forgotten lunch is never a one-course affair here!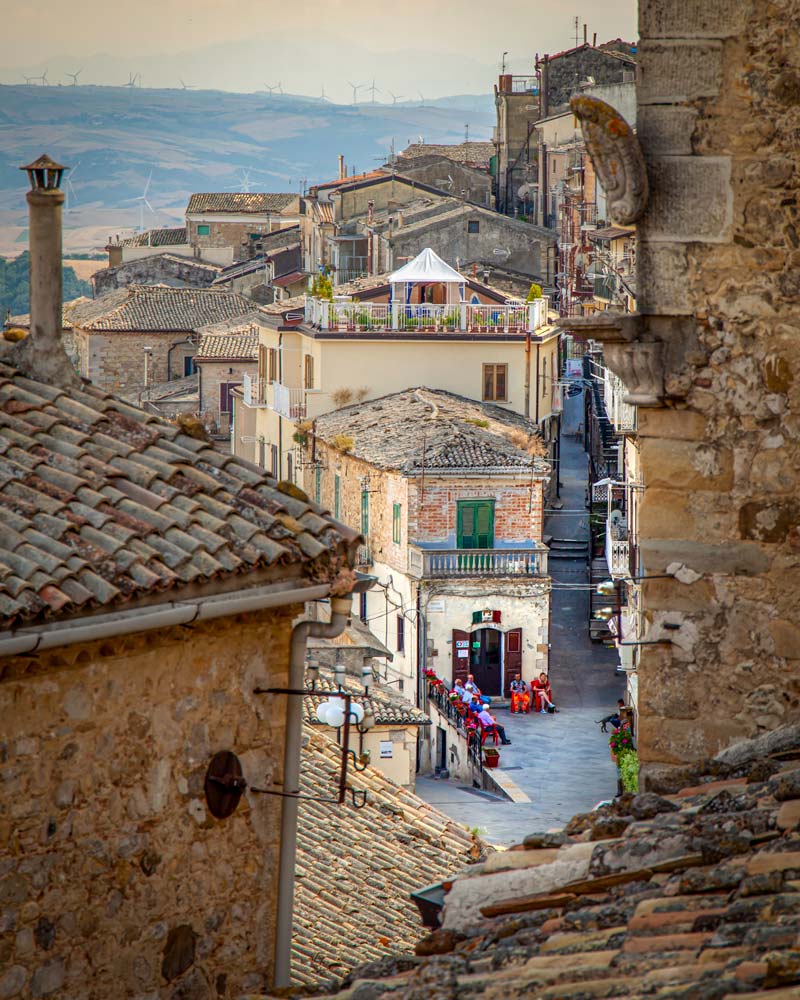 Well-fed, we carried ourselves back to the car, handshakes, waves and beaming smiles shared on both sides. We punched in the next stop on the sat nav and drove around an hour further into Foggia; the land time seemed to have forgotten.
'It can't be up there?' Janet questioned, as the road went from modern highway to crumbling concrete. I nodded, and Janet navigated her way around the potholes. As with usual, we certainly weren't taking the route we should have, Google Maps hadn't proved less than reliable in Puglia.
Sant'Agata di Puglia is one of those towns which takes you back in time. Perched on a hill, with seemingly nothing else around it, you'll feel that you have been transported to land from years gone by.
I've read about the many 'ghost villages' across Italy, that now sit abandoned and deserted waiting for the return of residents to shower them with love. While Sant'Agata di Puglia isn't one of those, the empty windows and many For Sale signs tell the story of how these remote communities, with the youth moving to the cities for jobs, are slowly becoming less and less populated.
We follow a lazy cat up to one of the many staircases in the town, heading in the general direction of the castle. This region of Foggia is famous for slow-travel and agritourism, and this cat seemed like the number one ambassador for it as it wearily collapsed in the main square.
Suddenly there was a sprinkling of life, as locals sat in plastic chairs enjoying wine in the late afternoon sunshine, and others sat on a bench outside a coffee shop sipping expresso. Kids sang and danced in the square, and I felt suddenly as much of the community as our lazy feline friend.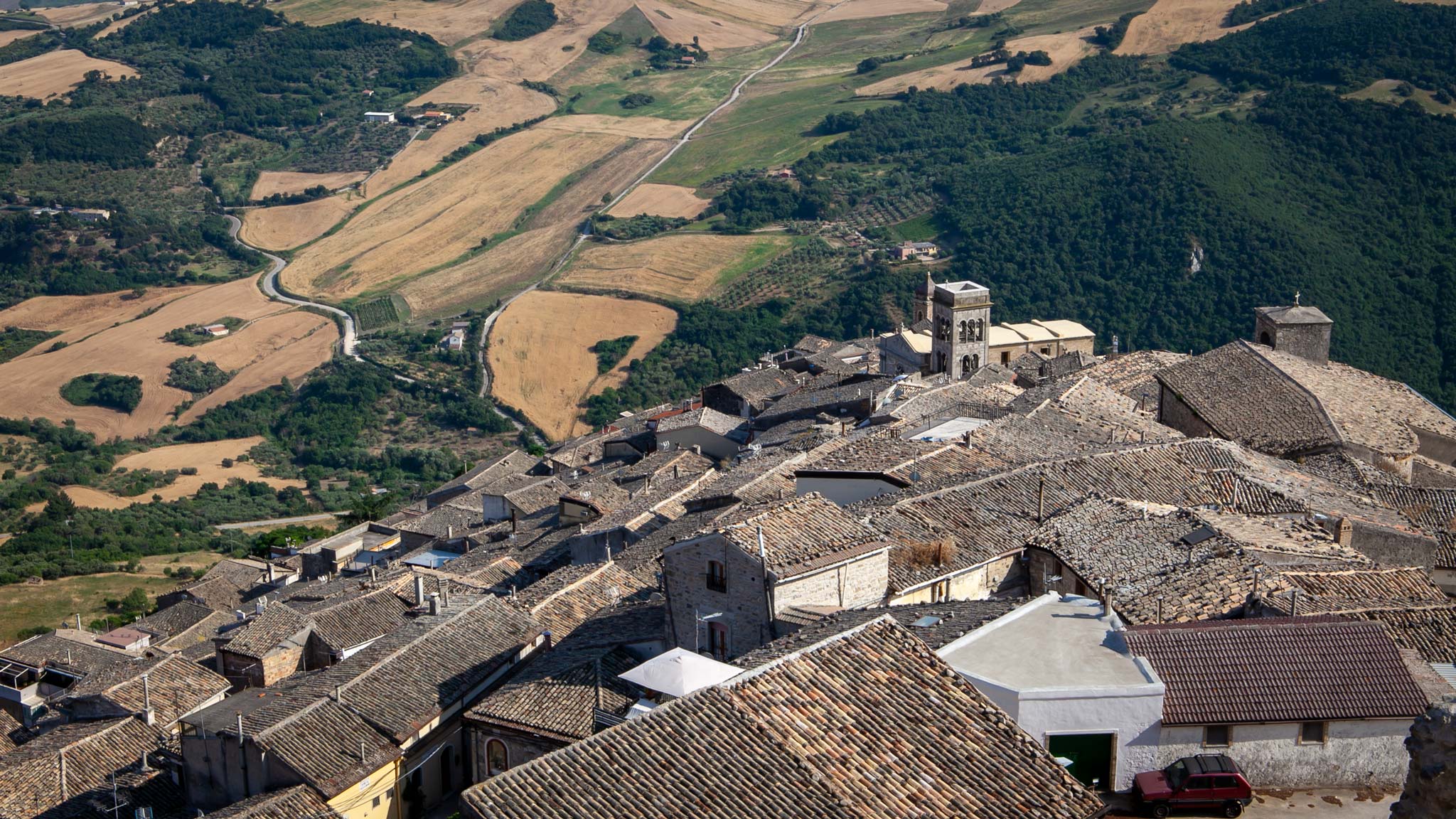 A medieval village in a prominent position, Sant'Agata di Puglia may have lost its old importance, but it retained its charm.
Behind closed doors of which young and passionate archaeological staff held the keys, we saw more old watermills and ancient underground wine cellars hidden from prying eyes.
More stairs, more churches, more spires, and then suddenly we were on top of the castle, an impressive fortress structure with even more impressive views out across the hills and mountains.
I breathed in the fresh countryside air and watched the last rays of sun illuminate the many houses seemingly hanging off the cliffside.
This is the Italy I love, the un-rushed, un-touristed, authentic Italy. The kind that could be a movie set, with Nannas hanging out of windows and mopeds parked up in rows.
Foggia may have seemed forgotten in time, but I was glad it wasn't overlooked from our Puglia trip.
Booking a watermill tour: Get Your Guide You can book a watermill tour to the one I visited online with , or to book the pasta making experience, reach out to the tourism office.
Where to stay in Bovino: In the heart of Bovino, Palazzo San Procopio offers a historic building, complete with some stone walls, and a wellness centre. It's a stones throw from the many attractions of Bovino. If you don'd mind staying slightly out of the centre, Bed and Wine Rocco Zambri has some stunning views across vines and the valley.
Where to stay in Sant'Agata di Puglia: The lovely L'Antico Monastero offers a historcial setting and great views of the town, with moden spacious rooms. If you want great views, check in here!
How to get to Puglia and Foggia: If visiting by air, then flying into Bari is the most obvious option, although Brindisi airport further south also provides international flights and is a good starting point for a road-trip if you are exploring all of Puglia. For the hills and mountains of Puglia, flying into Bari and hiring a car will bring you here with a driving time of around two hours.
Where to go after the hill town of Puglia: Check out my guide on things to do in Puglia to plan the rest of your trip.
More information on Puglia can be found on the Puglia tourism website.
Source link:https://www.danflyingsolo.com/puglia-mountain-towns-authentic-italy/