It was a cold winter afternoon when I received an urgent call from a local. They received word of a dog hanged on a leash and left to die in the woods. Shelter staff were able to locate the dying and breathing dog. I knew that time was of the essence, and I rushed to the shelter to see if I could help.
Upon arrival, I was shocked to see the condition of the dog, now named Oliver. His eyes were closed, and he was barely breathing. I knew we had to act fast if we wanted to save him. I quickly assembled a team of volunteers and veterinarians to assist with the rescue.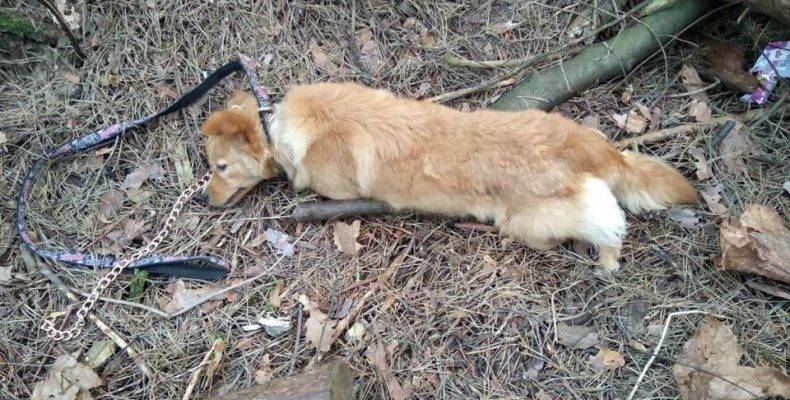 Our first priority is to stabilize Oliver's condition. We carefully removed the chains used to hang him and began to treat his wounds. Oliver suffered multiple broken bones, cuts and bruises all over his body. We give him pain medication and antibiotics, and we work around the clock to make sure he gets the care he needs to survive.
As the days passed, Oliver gradually began to show signs of improvement. He started eating and drinking on his own, and he was able to get up and walk. Obviously he's a fighter, and we're all amazed at his resilience.
As Oliver's condition continued to improve, his story began to spread. News of the dog that survived being hanged has spread quickly and people from all over the world are watching its progress. The support was overwhelming and that helped keep us all motivated as we worked to help Oliver recover.
Oliver was finally well enough to leave the shelter, and we were able to find him a forever loving home. His new family is overjoyed to have him, and they are committed to giving him the love and care he deserves.
Oliver's rescue was one of the greatest animal rescues of my life. It is a reminder of the power of hope and the strength of the relationship between humans and animals. It also taught me the importance of working together and never giving up, even when everything seems against us.
In short, the story of Oliver the dog who survived the hanging is an inspiring story of hope and resilience. It is a story that has touched the hearts of many and has inspired people around the world to get involved in animal rescue and care. As an animal lover and rescuer, I can say that rescuing Oliver has been one of the most rewarding experiences of my life. His story is a reminder that, with love and care, even the most traumatized and abandoned animals can miraculously recover.