Produced in partnership with #DoubleYourJourney
Three friends, two regions, one flight; that was the mission for our short but sweet road trip through Italy. In just eight days we would be lounging on rugged beaches, gorging on countless cuisines, shopping in fashion metropolises, gawping at castles in lakes and visiting villages so adorable their home should have been in a fairytale.
Puglia and Lombardy, the south and the north, two very different sides to Italy, yet the perfect complement to double your journey through my beloved nation.
If you're anything like me and want to maximise your vacation days, then you'll also be looking for ways to explore as much of a country as possible on your annual leave. In just over a week we embarked on an epic journey, fast enough to feast on many magical moments, but slow enough to still live the La Dolce Vita.
That said, for some people, our route would have been too fast-paced, so here's how to spend two weeks (14-days) road-tripping through Italy, yet still managing to enjoy the south and the north with a short internal flight.
I've also noted the shorter itinerary below, in case you're that way inclined, and the longer route includes some extra places that I've visited on previous visits to these beautiful regions of Italy.
Don't have a car? I've tried to give the best public transport or tour options I can so you can try and do as similar itinerary as possible without driving.
In general, when travelling by train in Italy and Europe, the best value fares are those booked in advance.
With a variety of high-speed and slower trains serving Italy, you can usually find the right journey at the right price. I'd suggest searching for routes and tickets before travelling to secure discounts, or searching for bus connections on Omio.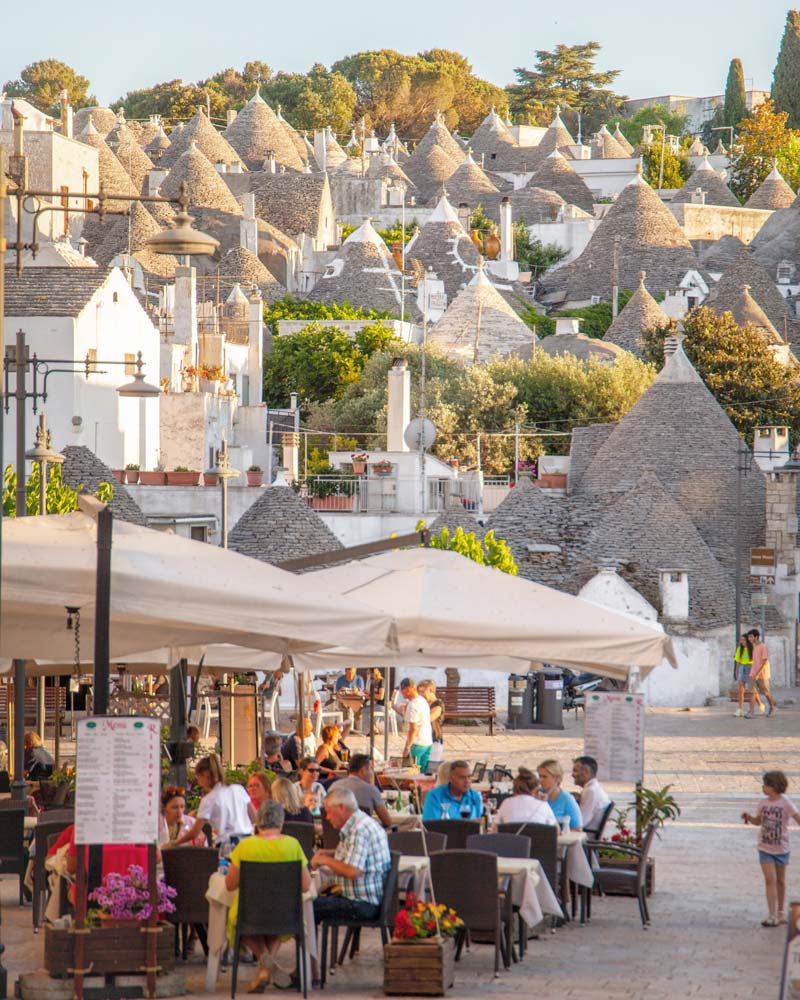 Here is an overview of my suggested two-week itinerary in Puglia and Lombardy, you can find full details including route, accommodation, and tips of what to see below.
Day One: Otranto and Lecce
Day Two: Lecce, Manduria and Locorotondo
Day Three: Locorotondo, Ostuni and Torre Canne
Day Four: Alberobello and Valle d'Itria
Day Five: Polignano a Mare and beach day / Bari
Day Six: Bari and Bovino and Sant'Agata di Puglia
Day Seven: Travel day and Fly to Lombardy
Day Eight: Milan
Day Nine: Milan and Lake Garda
Day Ten: Lake Garda and Lugana
Day Eleven: Mantua
Day Twelve: Cremona
Day Thirteen: Lake Como
Day Fourteen: Bergamo
And while you could also use the itinerary to plan a one week trip to either region, here is the exact shorter itinerary that I took in June, which is more fast-paced, and doesn't include quite as much as the two-week version. Chop and change the below Italy itinerary to best suit your needs.
Day One: Otranto and Lecce
Day Two: Manduria, Torre Canne, Locorotondo, Alberobello
Day Three: Alberobello, Valle d'Itria, Polignano a Mare, Bari
Day Four: Hills of Puglia: Sant'Agata di Puglia, Bovino
Day Five: Milan
Day Six: Lake Garda
Day Seven: Mantua
Day Eight: Cremona and Maggiore or Bergamo, depending on which airport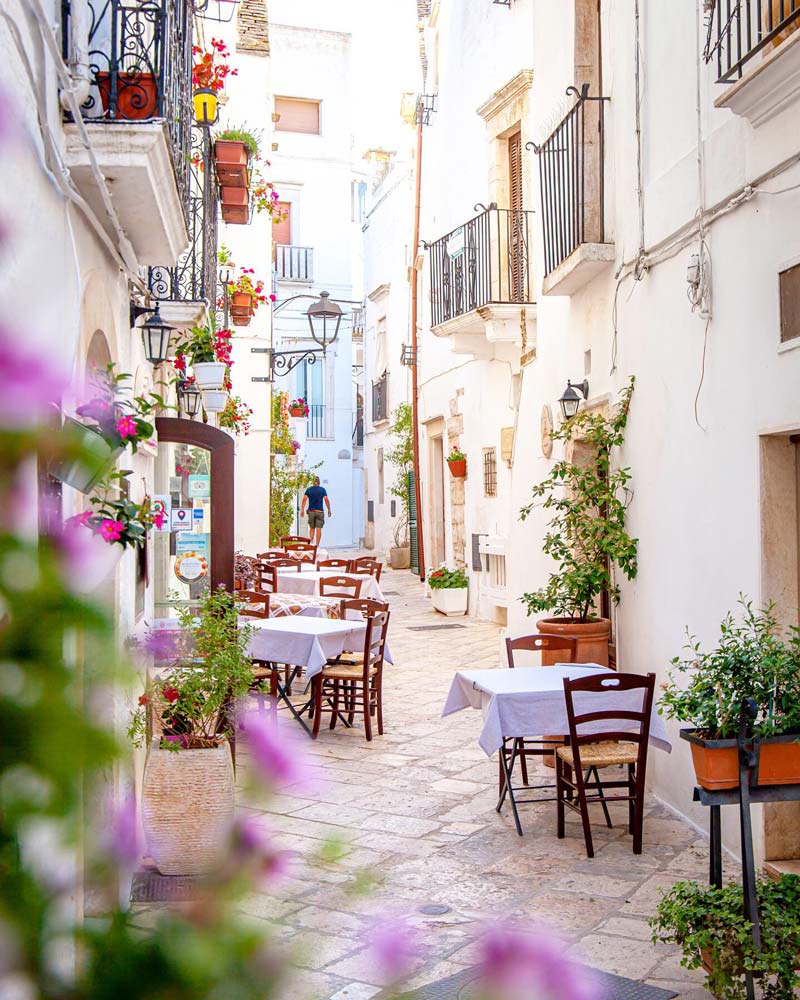 Day One: Brindisi – Otranto – Sant'Andrea -Lecce
Total drive time: 2 hours | Sleep in Lecce
Day one is all about lapping up what the far south-eastern coast of Italy has to offer. From waters so inviting to red-sand quarries that could have been lifted from the centre of Australia. The pace of life is slower here, the gelato is cool, and the welcoming smiles are everywhere.
What to do in Otranto
Otranto has quite a few surprises to enjoy, including the most easterly point of mainland Italy, a short drive from Otranto centre, where the Punta Palascia Lighthouse sits amongst wild herbs.
The Laghetto Cave di Bauxite was once a quarry but has been reclaimed by nature, and bright red soil surrounds the lake.
Inside Otranto, beyond the city-beach bathing opportunities and the massive castle complex, the unique Otranto Cathedral is well worth a visit. The floor is laid out with incredible mosaics depicting heaven and hell, and in the back Chapel sits the bones of Christian martyrs who passed away here. A fascinating place, and a worthy hidden gem in Italy.
Also, be sure to try Puccia here, an open sandwich stuffed with whatever delicious local ingredients you choose, we went to a great little spot called Postofisso, just down from the Castle which dominates Otranto, and enjoyed a Buratta stuffed version, which is a type of creamy mozzarella.
On route from Otranto to Lecce, stop to explore some more of the coast at Sant'Andrea, a popular cliff-jumping spot and although busy in the summer months, absolutely breathtaking.
What to do in Lecce
One of the best places to visit in Puglia, Lecce is quite often referred to as the Florence of the south due to the beautiful architecture and its golden tone.
You'll naturally be drawn to the Roman Amphitheatre in the heart of the city, and to admire the Cathedrals and grand squares, but they're also plenty of fantastic restaurants and super modern cocktail bars to be found on the little streets. I got up for sunrise to walk around here and basically had the whole city to myself; it was dreamy.
Another thing not to miss in Lecce is the signature coffee of the city, caffè in ghiaccio, an iced drink with almond milk, sweet and delicious on a hot day.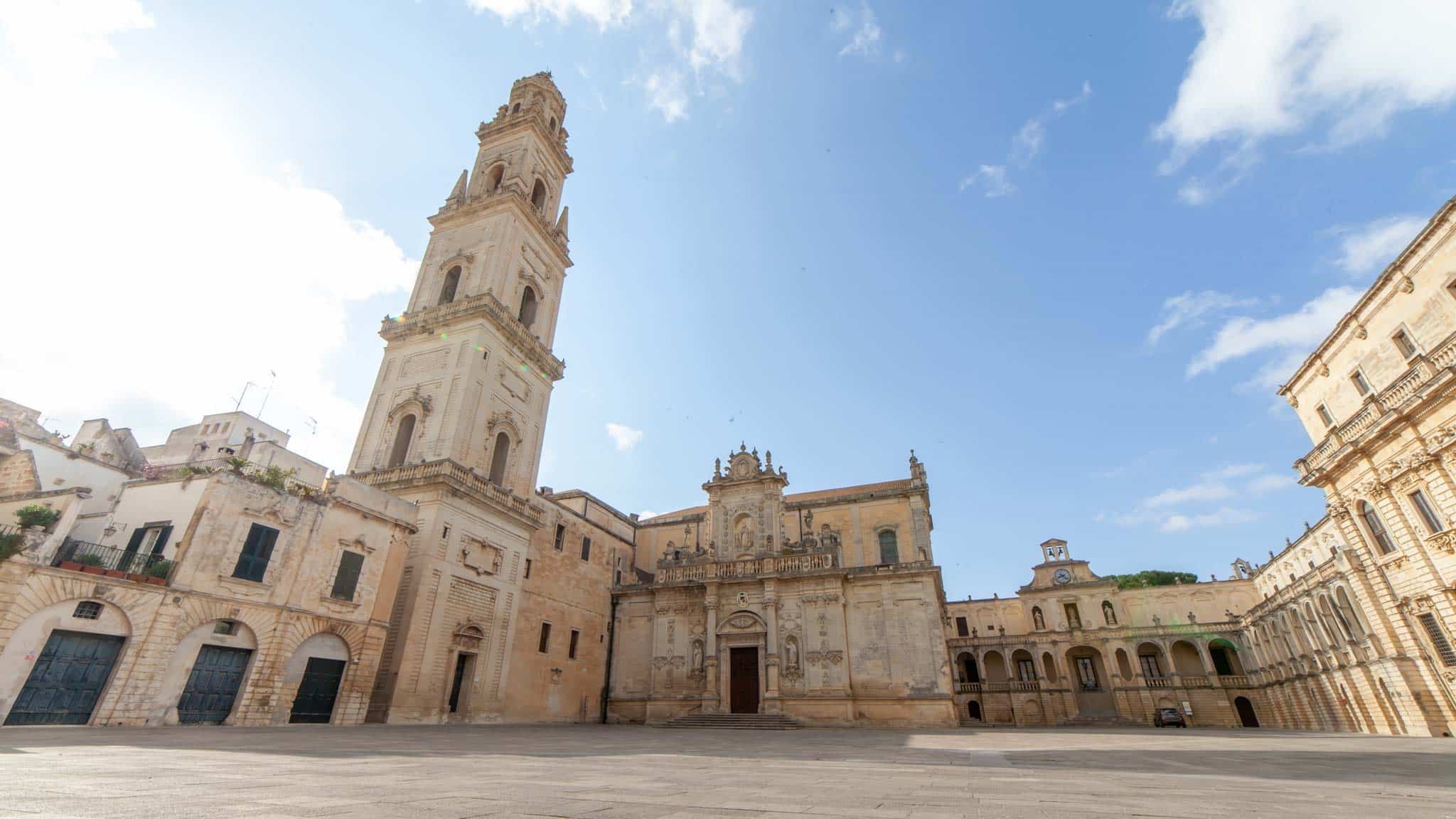 Prefer a gude or tour?
We had an awesome guide, Francesco, in Otranto who whizzed us around on an Ape Calessino, a three-wheel type tuk-tuk that comes from Southern Italy. Likewise, in Lecce, it was nice to have a guide and learn more about the Baroque buildings and local food scene. You can get in touch with Francesco here.
Doing this route by public transport?
Trains connect Brindisi with Lecce, journey time of around 30 minutes, from Lecce you can take a 45-minute bus to Otranto. There are also some direct buses from Brindisi to Otranto.
Where to stay in Lecce
We stayed in the delightful Donna Teresa Guesthouse right in the centre of town, where after dipping through a wooden door to a courtyard, and climbing some stairs, you arrive at a handful of beautifully decorated and restored rooms. All mod-cons, giant bathrooms, some with round tubs, and clean furnishings made this a great place to spend the night.
Where to stay in Otranto (if you decide to)
I haven't spent a night in Otranto personally, but Hotel La Plancia looks to offer good value simple rooms right by the beaches, which is where I would stay just outside the city centre.
Where to stay in Brindisi if you want to check-in after the flight
If you are arriving late as we did, and just want a place to crash, then Handy B&B in Brindisi is ideal as the clean, modern rooms are accessed via KeySafe, a small breakfast is served on the roof terrace, and it's moments from the main sights of Brindisi if you head for a walk.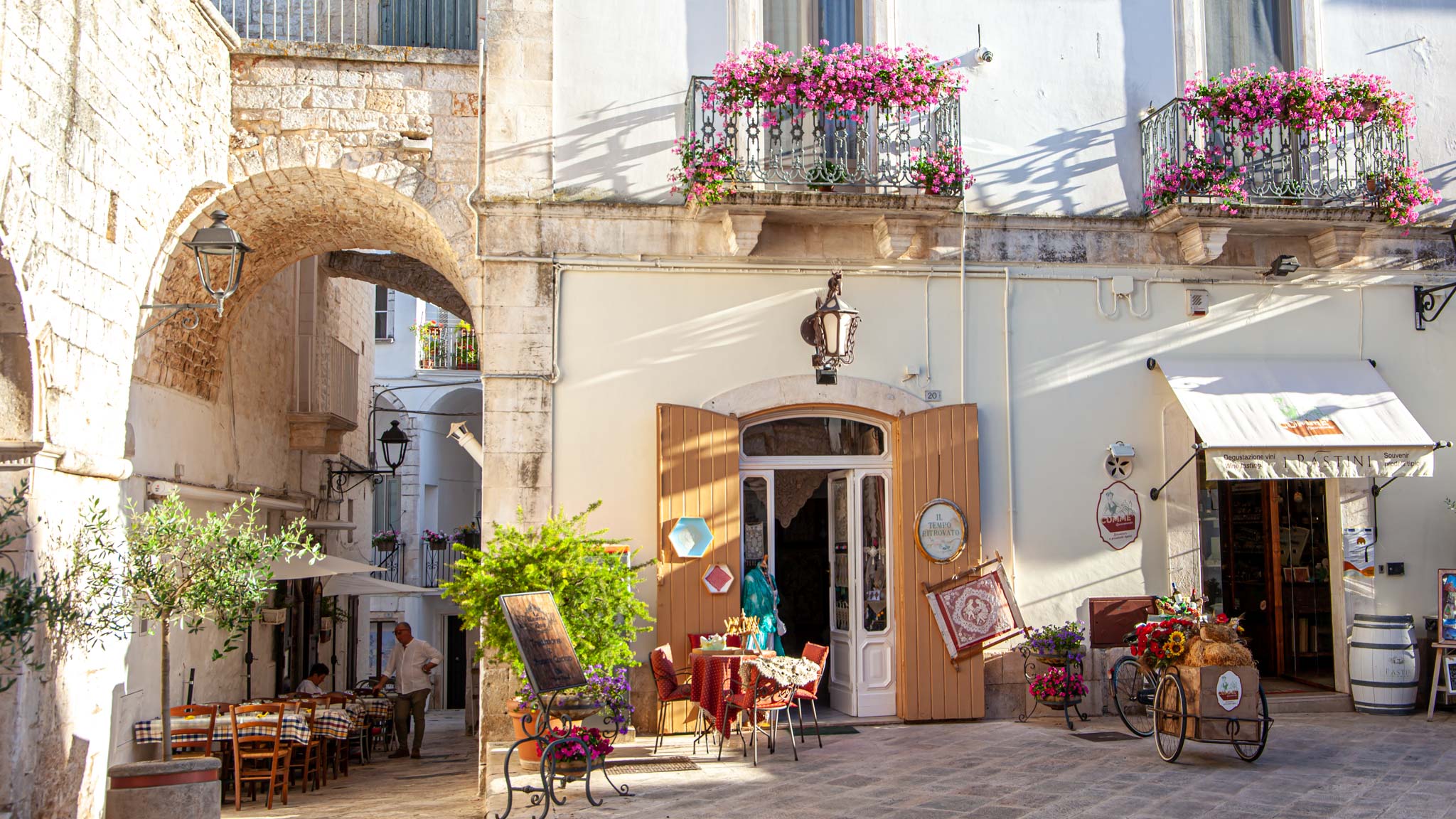 Day Two: Lecce – Manduria – Locorotondo
Total drive time: 2 hours | Sleep in Locorotondo
After an early morning stroll around Lecce to enjoy it at it's most peaceful, today is about wine and white-washed villages.
What to do in Manduria
The main reason for visiting Mandruia is the fascinting Museum of Primitivo wine, where the local delicious wines are bottles.
You'll be greeted with what looks like petrol pumps, but they are actually dishing out great value wine. Underground you can tour the rooms which used to hold the wine rather than barrels but now house a museum before enjoying a wine tasting.
What to do in Locorotondo
Locorotondo became one of my favourite places in Puglia, and I absolutely fell in love with it. The name of the town comes from the circular shape it was built in, although this isn't obvious from ground level.
This is a dreamy town where white-washed walls are brightened up by purple and pink flowers in pots, and little restaurants offering alfresco dining in the quaint streets. There isn't a whole host of things to do here, but strolling around the charming town will more than put a smile on your face.
Doing this route by public transport?
To get from Lecce to Manduria you'll need to take a combo of buses and trains, and then walk or jump a taxi to the wine museum, so you may prefer if relying on public transport to skip Manduria, and head straight to Locorotondo or Ostuni. Busses to Ostuni take around 90-minutes, and to Locorotondo you'll want to take a bus through Martina Franca, or a train, with a total journey time of around 3-hours.
Where to stay in Locorotondo
Be sure to stay in the amazing white-washed streets of Locorotondo, not in the newer part of the town if possible. There are just a few accommodation options, but the apartments at Attis Bed & Breakfast will provide the chance to enjoy the terrace views and have extra amenities such as washing machine etc.
Where to stay in Ostuni
You might decide to change the route of this itinerary slightly, and if you do head to Ostuni first then consider staying at B&B Scuderie Maresca, a characterful converted stable in the heart of Ostuni.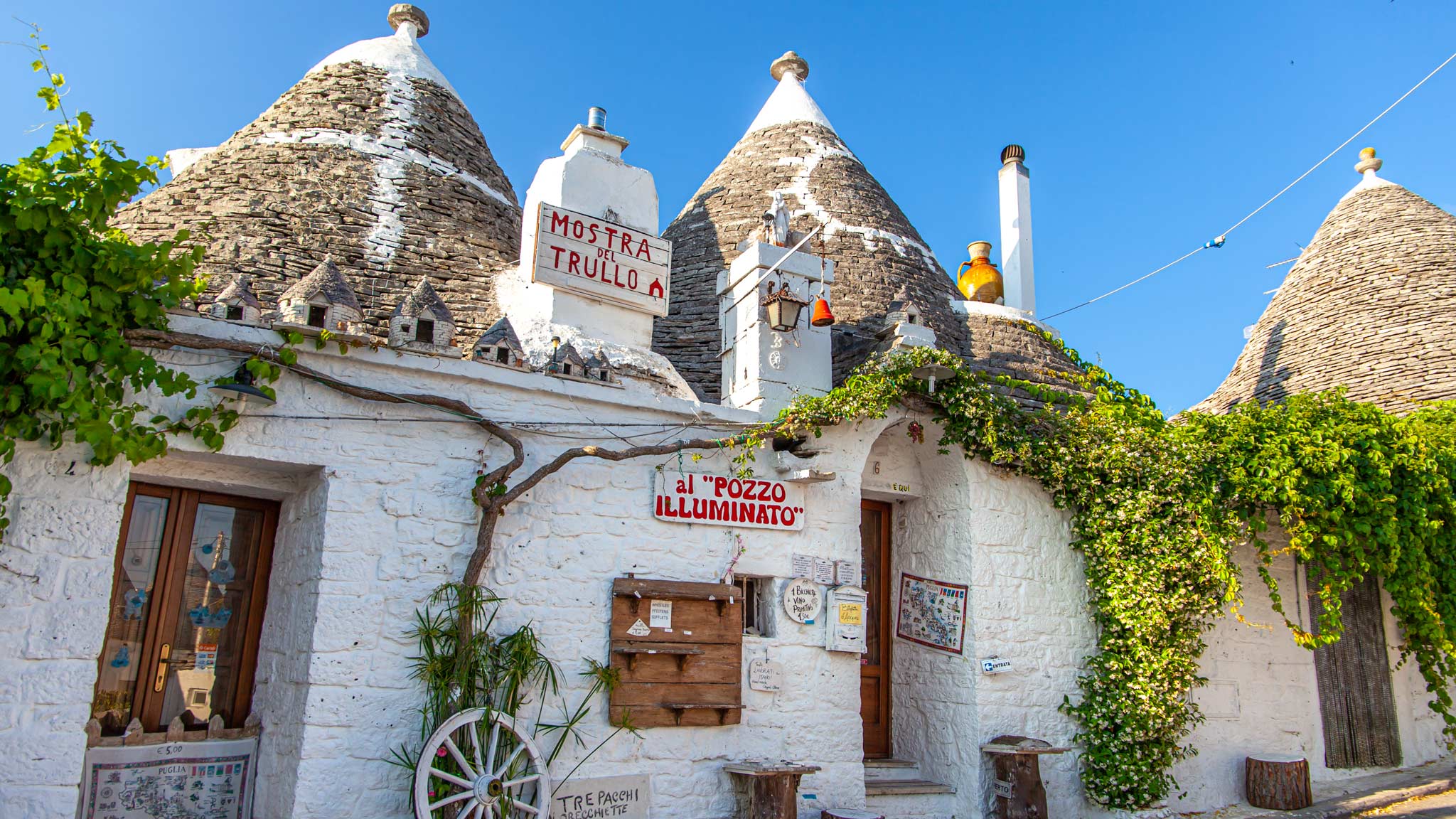 Day Three: Locorotondo – Ostuni – Torre Canne – Alberobello
Total drive time: 2 hours | Sleep in Alberobello
From the streets of Locorotondo, set off early to explore another fantastic white town, see the wind-battered coast, and end the day amongst the UNESCO listed Trulli of Alberobello, this is a busy day on your Puglia road trip!
What to do in Ostuni
The 'white city' of Puglia, Ostuni gracefully grows up from its prime position slightly inland from the coast, and the drive towards the white-washed exterior gives you some stunning viewpoints to admire it from.
The historical centre is charming, a running theme in Puglia, and you'll be blown away the second you step through an old medieval gate into the centre. A mix of Gothic, Byzantine and Roman elements are combined in the Cathedral, while the labyrinth of alleyways brings never-ending photo opportunities.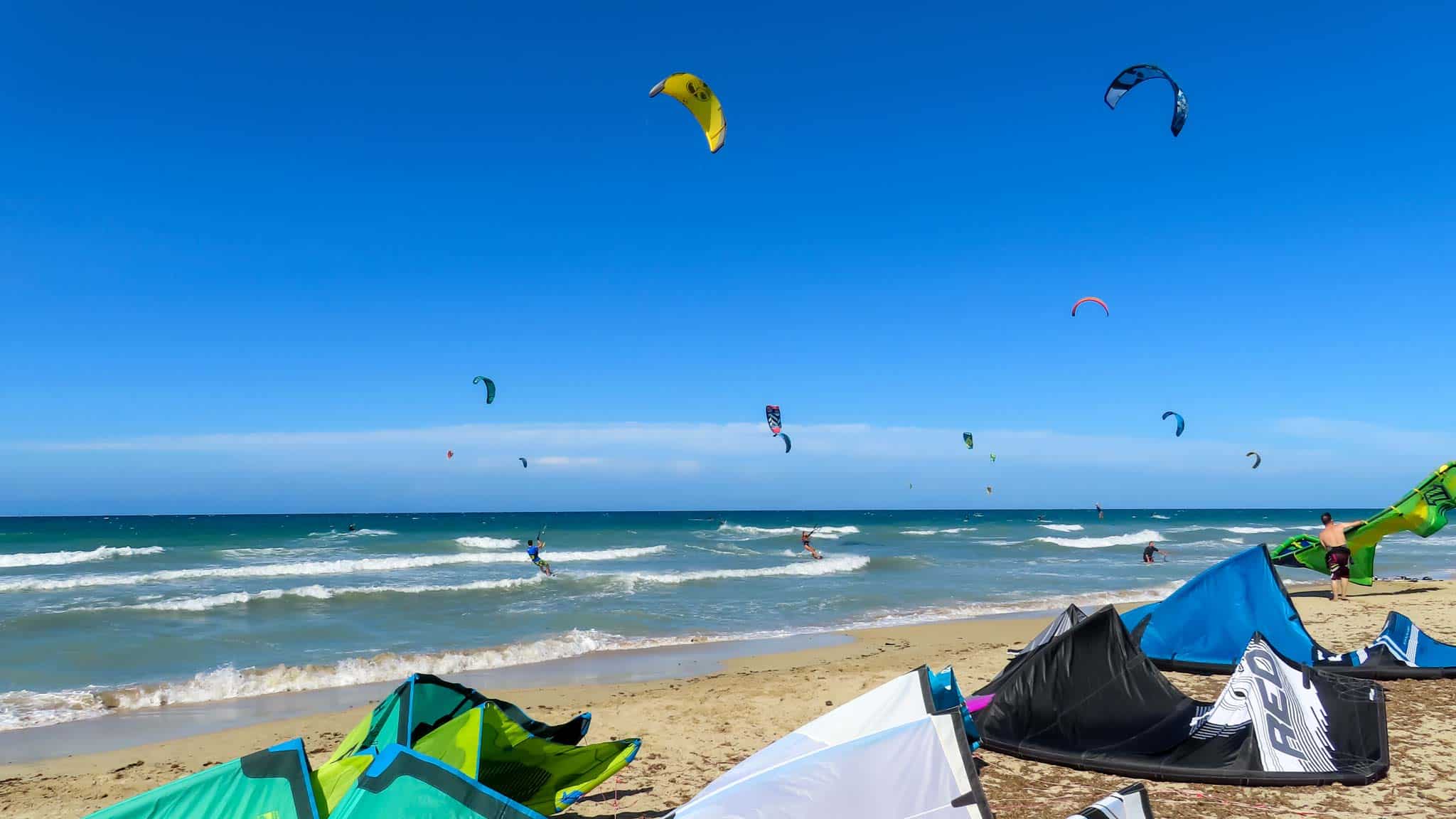 What to do in Torre Canne
After exploring Ostuni, take a short drive to the coast where you can either have lunch in Torre Canne, a town jutting out into the ocean, or at one of the beach restaurants in Parco Naturale e Regionale delle Dune Costiere.
This sand-dune national park is a windsurfers paradise, so if you want to sign up for a lesson or are a pro, this is a chance to get some adventure into your Puglia itinerary.
What to do in Alberobello
The main draw to Alberobello are of course the Trulli, which are UNESCO listed.
As well as walking through the streets and marvelling at the conical roofed buildings, you can slip inside museum-style Trulli, still decorated as they would have been traditionally lived in, or enjoy food and drinks inside them.
It's a charming town, and there is also a new part just outside the Trulli area where you can pick up road trip supplies.
Prefer to do a tour?
If you fancy learning a little more about Ostuni, and treating yourself, then a 2-hour walking and gelato tour might be just the ticket. There are also group tours of Alberobello you can join to learn more about the (sometimes disputed) history of the Trulli here.
Doing this route by public transport?
Depending on where you are coming from the night before, I'd likely suggest if reliant on public transport you head straight to Alberobello for ease. Getting between Ostuni and Locorotondo looks like it actually requires two buses and a couple of hours. To get to Alberobello from Locorotondo is easy with a 10-minute bus. From Ostuni to Locorotondo, the 370 bus to Ceglie Messapica and then the Marozzi service from there is a less than ideal and quite long best option from what I can see.
Where to stay in Alberobello
On this itinerary, I've put two nights staying here, as it gets exhausting on a road trip changing location every night and given the host of restaurants and tourist facilities nearby, its a sensible option.
We stayed about a 10-minute walk from the Trulli, in a really friendly guesthouse, Hotel Silva, which was nicely decorated and offered the best breakfast buffet of the trip. The owners were super helpful and dropped us off at their favourite restaurant in town.
If you would prefer to stay in an actual Trulli, consider Il Trullo dell'Agricoltore.
Where to stay in Valle d'Itria
If you would prefer to stay outside Alberobello, as you may be here two nights, consider renting one of the beautiful Trulli style accommodation in the Valle d'Itria, you don't even have to go far outside the town to find some beautiful Trulli resorts with pools, such as Il Gabellota Resort.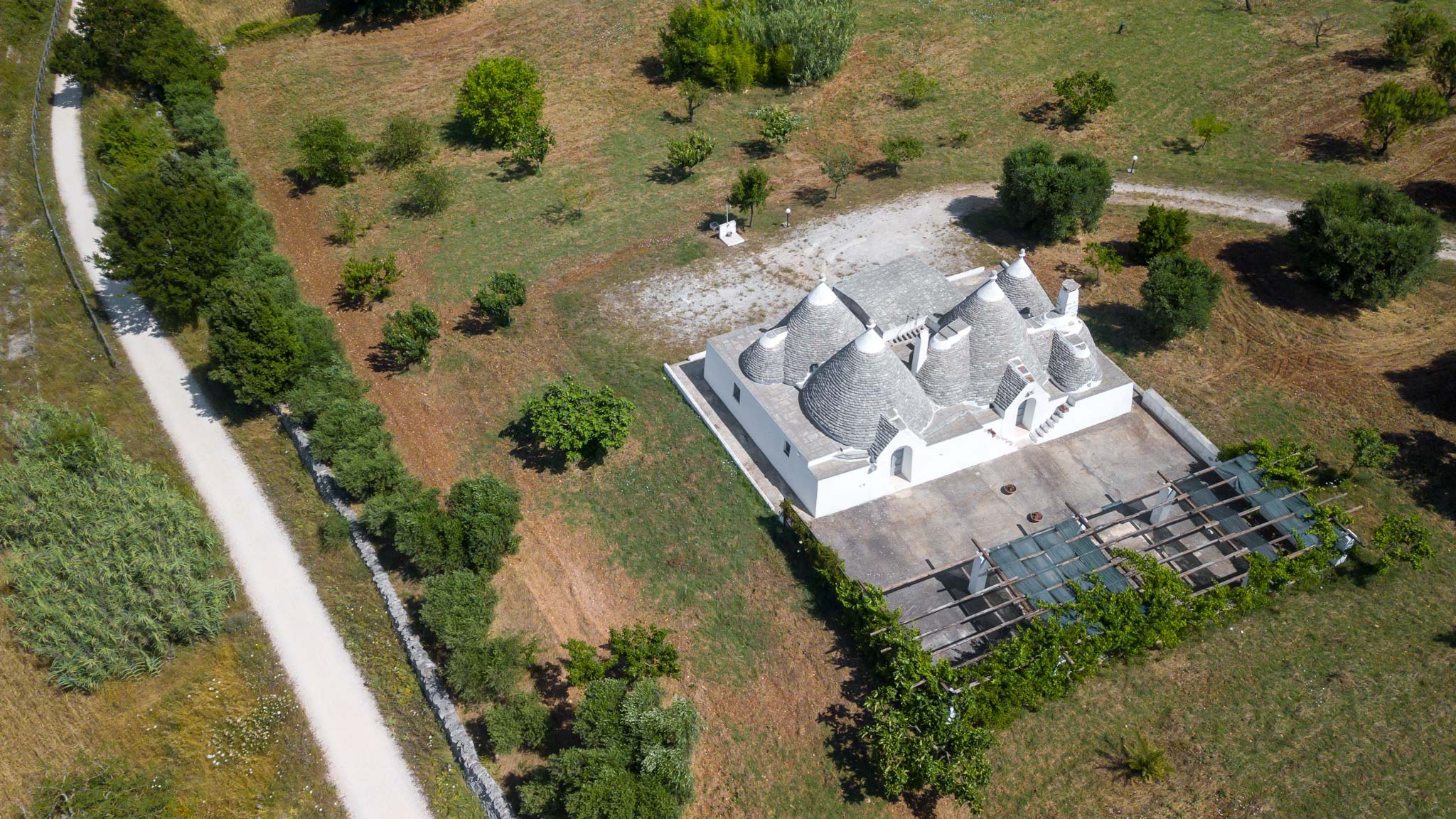 Day Four: Alberobello – Martina Franca – Valle d'Itria
Total drive time: 1-hour | Sleep in Alberobello
Day four on the Puglia road trip is about enjoying the natural beauty of Puglia, ideally by bicycle.
What to do in Valle d'Itria
The Valle d'Itria is awash with olive trees and vineyards, and we decided to ditch the car for much of the day and explore by bicycle.
There are plenty of great bike trails here, and they are relatively flat, although I imagine on super hot days a bit too intense. It was a really nice way to see the Valley, passing Trulli on the way.
What to do in Martina France
Martina France is a delightful town, famed for cured meats which are eaten all across Italy.
Head here to get lost in the maze like mesh of alleyways, before indluging on a delicious lunch in the main square – I highly reccoemend dining at Ristorante Garibaldi by the main Cathedral.
Prefer a tour?
Get intouch with Puglia Cycle Tours who can arrange a guide and bike rental for you.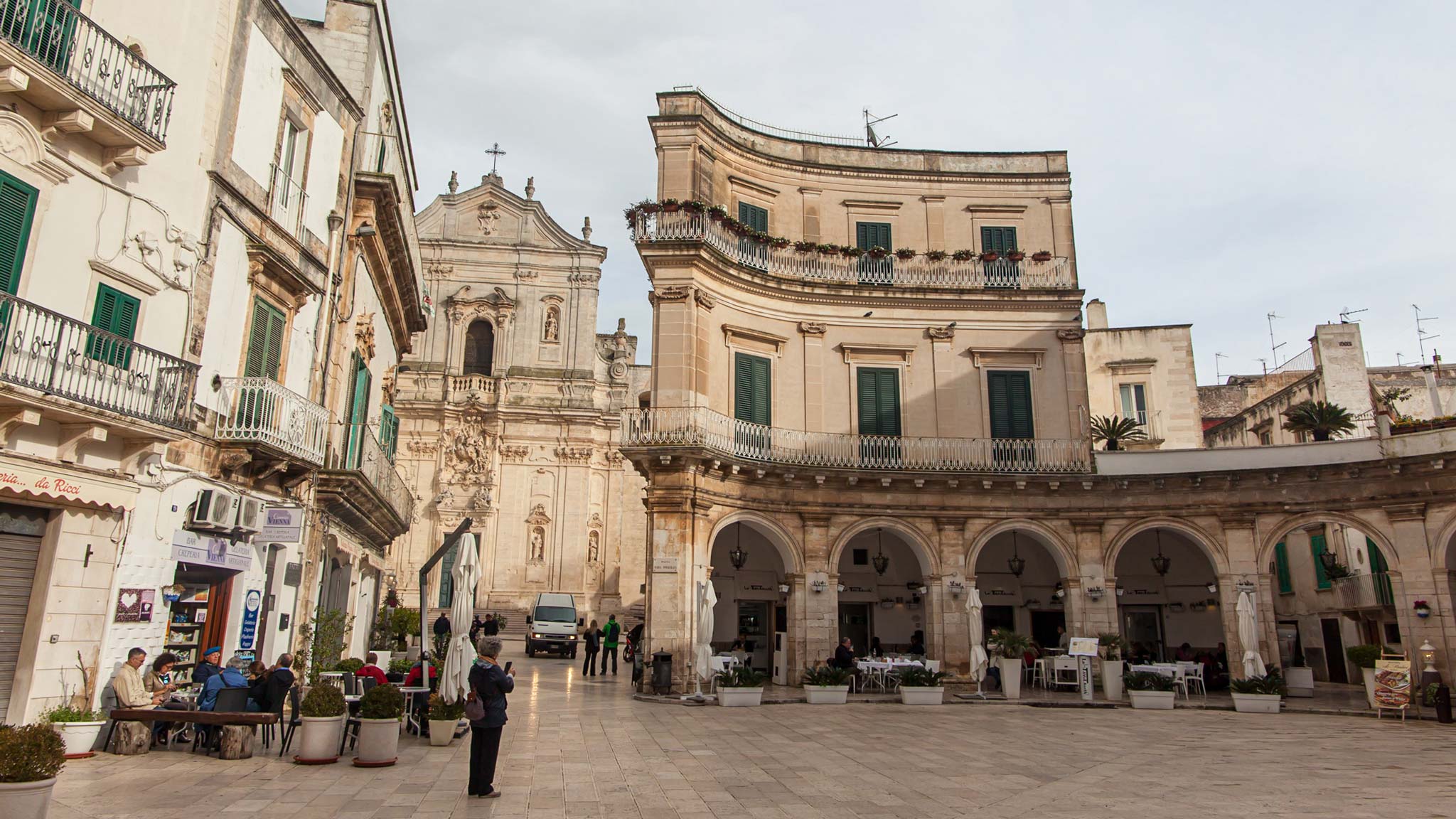 Doing this route by public transport?
If you are following this route by public transport, you might have found you've already visited Martina Franca coming up. As such, I'd suggest for exploring the Vale d'Itria you just join one of the cycling tours or similar, or simply take a local bus out of Alberobello. No need for anything too complicated here.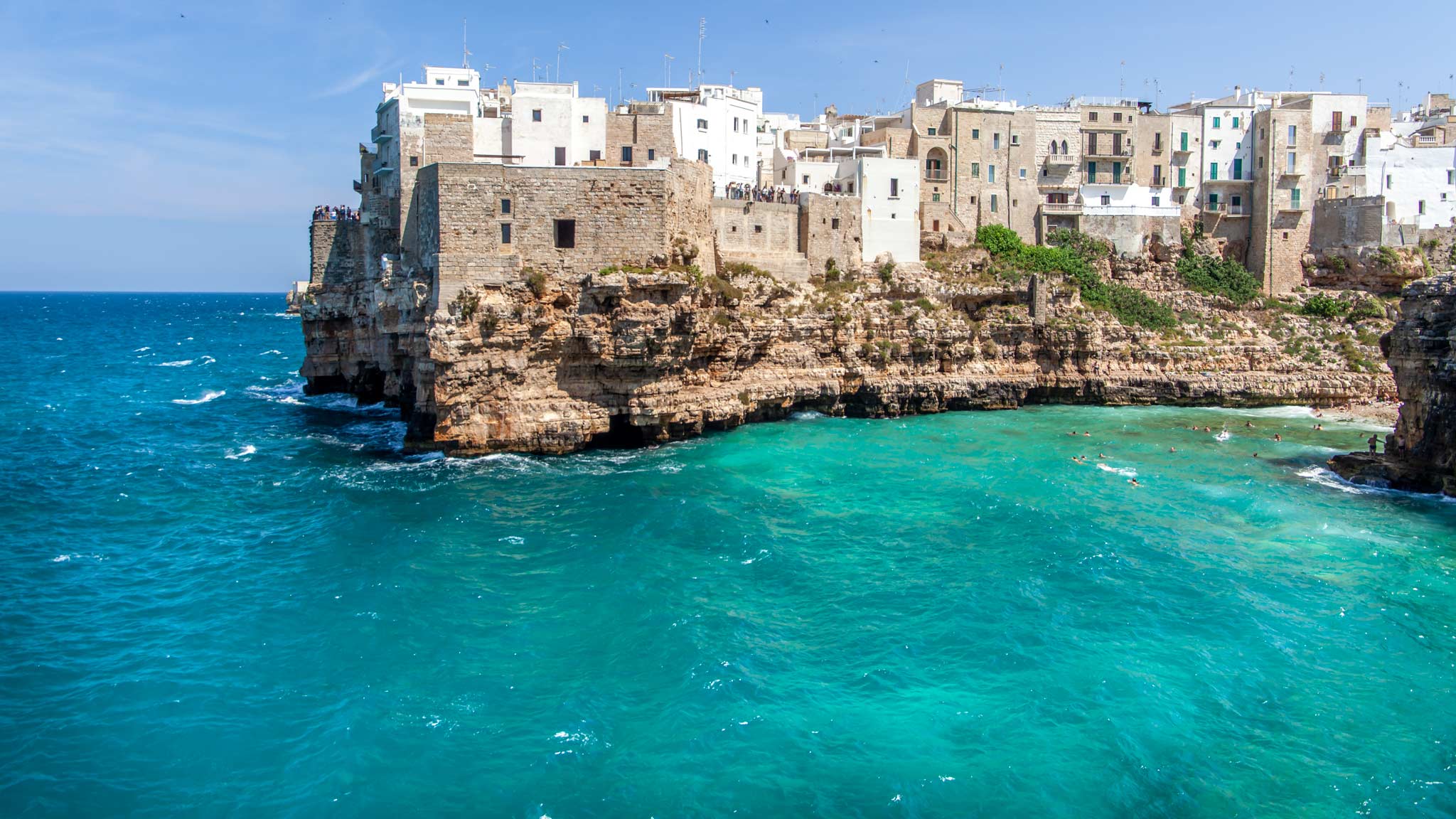 Day Five: Polignano a Mare and Bari
Total drive time: 1.5 hours | Sleep in Polignano a Mare
For day five of the Puglia road trip, it's time to unwind on one of the most famous beaches on the coastline and discover the culinary gems of Bari.
What to do in Polignano a Mare
It's no surprise the beach here gets busy, given it's an Instagram star in its own right. This is also where you'll find the grotto restaurant, another popular Instagram shot.
What you might not realise though is just how charming Polignano a Mare is inside the cluster of houses that hang out over the ocean. Cute streets, delightful restaurants, and lovely bars to enjoy a Spritz at complete the visit here, and you might even find you want to drive a little further out of town to get a slightly quieter stretch of beach or escape the heat in the Pino Pascali contemporary art museum.
What to do in Bari
I've been to Bari twice, the first time I didn't love it – which is why a lot of people skip it – the second time, thanks to the tour we did, I really enjoyed it.
Bari is a port-city and the capital of Puglia, and it's going through somewhat of a comeback having earned a reputation of being a bit rough around the edges.
To be fair, I think it kinda is, but in a more charming way than it once was. With an impressive Cathedral here and lots of little alleyways to get lost down, usually with Nanna's outside making fresh pasta, it warms to you the more time you spend here. It's also got some cracking nightlife, a casino if you fancy a little gamble, and plenty of fantastic food options, all of which I visited on our rickshaw tour came with personal stories and hearty laughter.
Prefer a tour?
I'd highly recommend the rickshaw tour of Bari we did, as it was a great way to discover some hidden gems, learn more about the city's past, and taste some delicious local dishes. Velo Service Tours run a range of different options in Bari.
Doing this route by public transport?
From Alberobello to Polignano a Mare, you'll most likely have to take a bus to Bari, and then join the trainline which links the two there, as such, you might swap the plan around a little bit compared to driving. The trains between Bari and Polignano a Mare are regular. There does appear to be a limited bus that connects in Conversano, but I can only find limited information online.
Where to stay in Polignano a Mare
If you are going to stay in one of the gems of Puglia, then be sure to get a room with a view. Prices here range up to the crazy expensive, but B&B Dei Serafini offers fairly reasonably rooms, some with balconies and terraces out to the water.
Where to stay in Bari
If you opt to stay in Bari instead, consider having a little splurge on the historic Oriente Hotel right in the centre of the city, or checking out my recommendations below just outside the city for more accessible parking.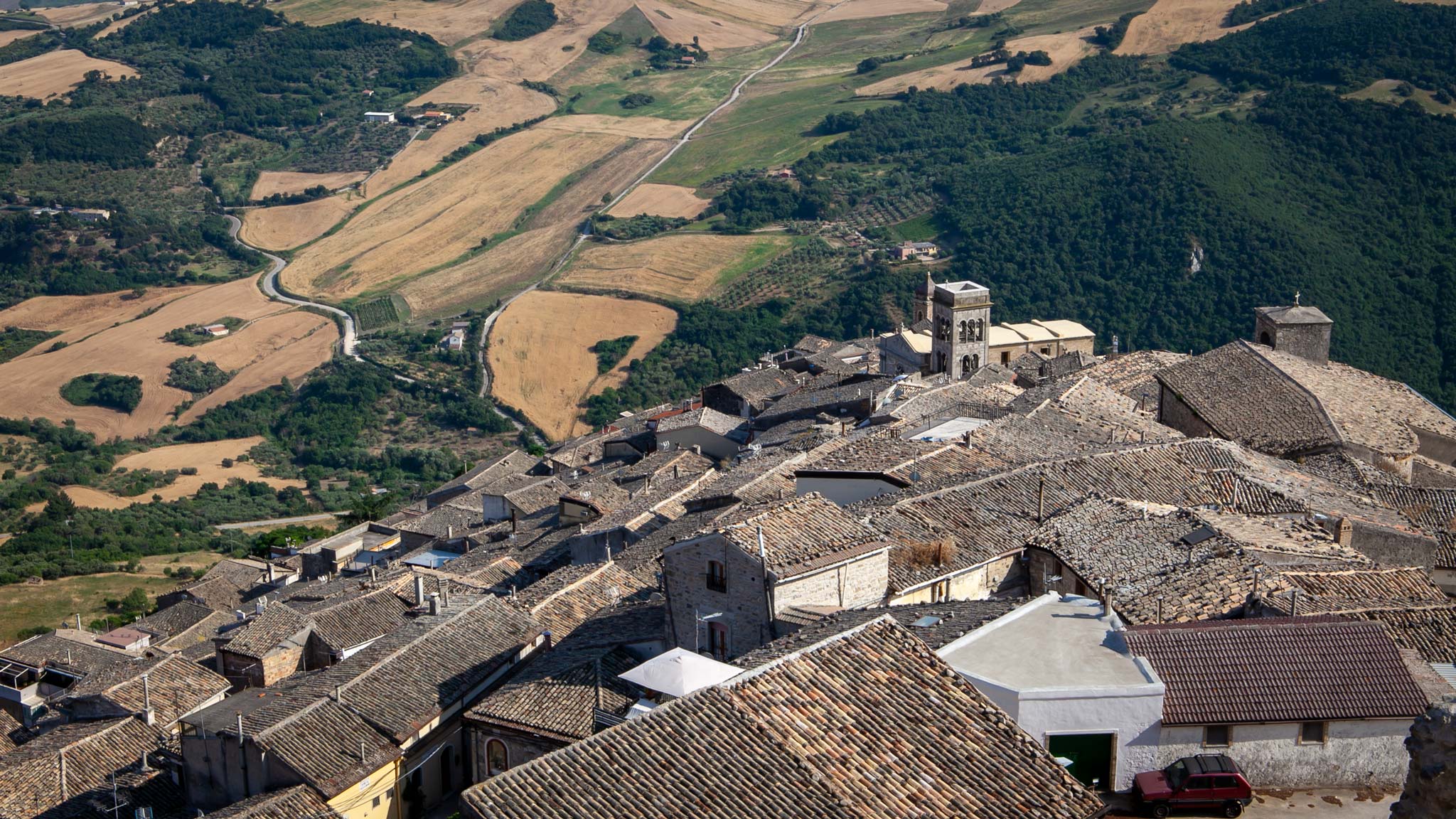 Day Six: Bovino and Sant'Agata di Puglia
Total drive time: 2.5 hours | Sleep in Sant'Agata di Puglia
Today on the Puglia road trip it's time to head to Foggia, an inland and hilly part of the region where medieval towns and villages perched on mountainsides reign supreme.
What to do in Bovino
In Italy there is an official society for the 'Most beautiful villages of Italy', and Bovino is proudly on that list. It's the kinda place you get lost in and stroll around, but there are a few main attractions such as San Pietro Church and the Norman Castle.
One of the most exciting foodie experiences I had in Puglia was in between my visits to Bovino and Sant Agata' di Puglia, where Olga and Massimo welcomed us to their old watermill dating back to the 1600s. Here we learnt how to make pasta and enjoyed a hearty lunch, as arranged by our local guide.
What to do in Sant'Agata di Puglia
You'll be whisked back in time as you drive the less than perfect road higher and higher to Sant'Agata di Puglia, what greets you though is a town that clings onto the mountain in a postcard-perfect way.
Here you can discover old mills and wine cellars, admire the epic views from the castle which is at the top of the town like a star on a Christmas tree, or slip into slow-paced cafes and restaurants on the squares where locals sip wine and coffee.
Prefer a tour?
As this is a less traverse region of Puglia, you might want to enlist the same local guide/company we did to help make some of our arrangements.
Doing this route by public transport?
Public transport options seem to get more limited when exploring the hills of Puglia, and while I'm sure there are plenty of local options and connections you could opt for, it might be a pain which is why I assume fewer visitors head out this way. Consider a tour as the easiest option, otherwise take a train from Bari to Foggia, and from there consult the local bus timetables or taxis to continue.
Where to stay in Sant'Agata di Puglia
The lovely L'Antico Monastero offers a historical setting and great views of the town, with modern spacious rooms. If you want great views, check in here!
Where to stay in Bovino
In the heart of Bovino, Palazzo San Procopio offers a historic building, complete with some stone walls, and a wellness centre. It's a stone's throw from the many attractions of Bovino. If you don't mind staying slightly out of the centre, Bed and Wine Rocco Zambri has some stunning views across vines and the valley.
Where to stay near Bari Airport
If you prefer to stay near the airport, or even when in Bari want a more comfortable parking option, then the surprising Le Tre Sorelle in Palese is a great option, as there is a train station here, and it's a short drive to the airport. Behind the unassuming doors are a grand courtyard, a vast garden where breakfast is served and good sized rooms with very noble and royal decoration. For sure the most surprising accommodation of our Puglia road trip.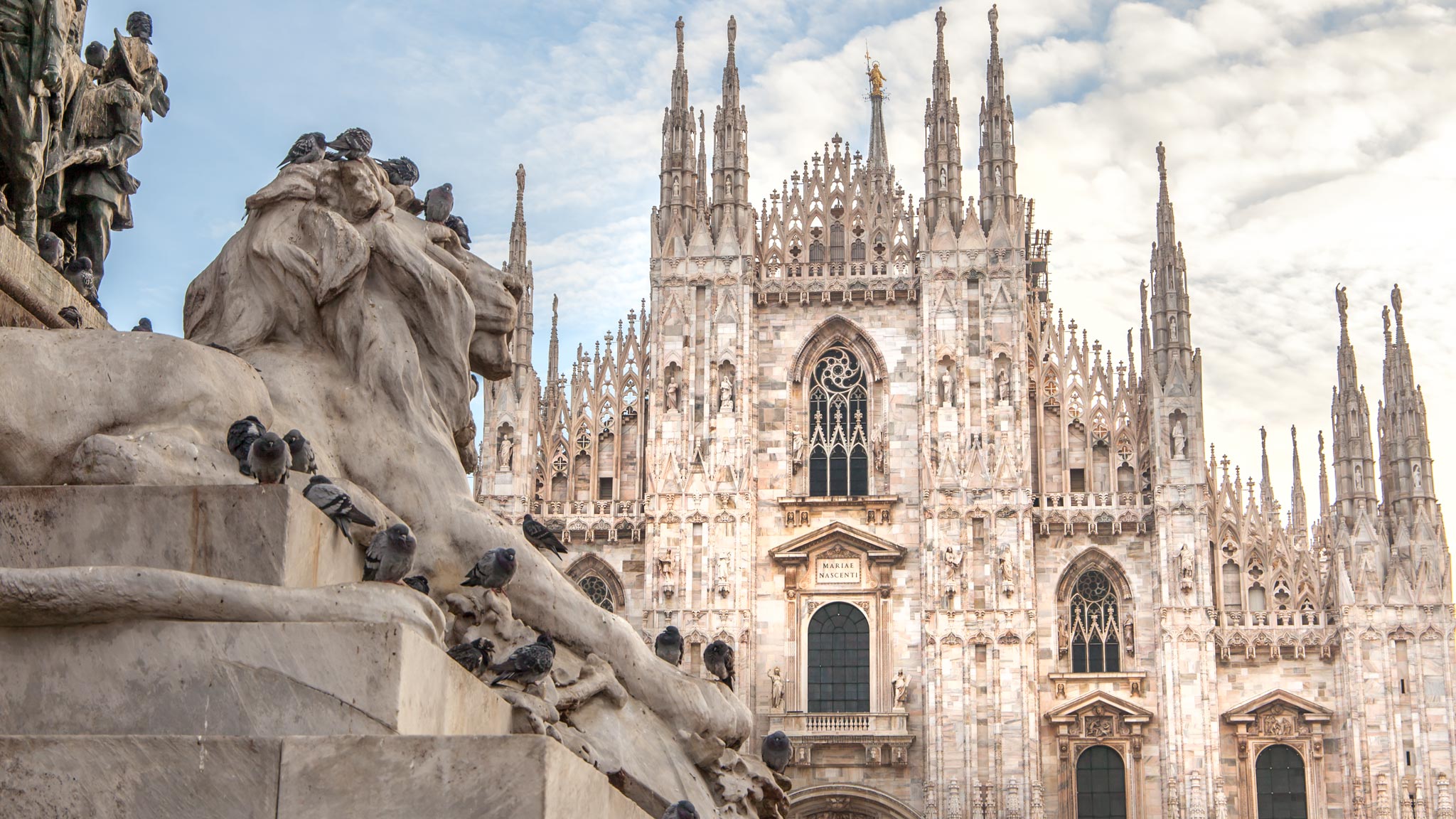 Day Seven: Travel Day / Fly to Lombardy
Total drive time: 1.5 hours | Sleep in Milan
Day seven is somewhat of a travel day and will depend on which flight you take from Bari to Milan, and likewise which of the three airports you arrive into, Bergamo, Malpensa or Linate.
If you fly into Bergamo, you might want to see day 14 of the road trip and consider visiting Bergamo before heading into Milan itself. I've put all the suggestions for Milan in Day Eight, so you can spread them out to best suit your flight time today, and see everything else tomorrow.
Doing this route by public transport?
If you are going from Bari or Palese to Bari Airport train and bus are easy options, once in Milan, you have an excellent public transport system with day-cards available.
Where to stay in Milan
There are countless places to stay in Milan to suit all budgets and tastes, so I won't make any personal recommendations as you have plenty to choose from and I've stayed in so many places here from great, to awful. I have made Milan another two-night stay on this itinerary though, so you can pace down – it might be worth considering an apartment-style option so you can wash some laundry and chill out after an epic road trip through Puglia!
Day Eight: Milan
Total drive time: None | Sleep in Milan
It's no surprise Milan, being the capital of the region and fashion capital of Italy, is the top thing to do in Lombardy. With so much to discover here, you'll likely want to get an early start.
What to do in Milan
I've written about Milan in a bit more detail before, as there is a lot of option here. Milan is a city that it took me a few years to really uncover, as there is a lot of great spots around, so take a pick of your favourites:
The Duomo and Galleria Vittorio Emanuele II are the best-known attractions, but go early morning if you can for photos.
There are countless other churches worthy of your time in Milan such as San Maurizio al Monastero Maggiore which is one of my favourites.
The new district of Milan, Porta Nova, especially around the Vertical Forest apartment buildings provide a stark contrast, with lots of shopping next to the green park.
The Brera district is one of my favourite parts for restaurants and people watching, the University Library here is also a bit of a hidden gem.
Head to the Castle of Milan, which a lot of people somehow miss, and from here you can walk through the park to the Triennale and the Design Museum.
End your day in Navigli, the canal district to enjoy aperitivo hour, where food and snacks are included with the cocktail of your choice, and in many of the places here it's a large buffet affair.
There are a few things in Milan you'll likely want to book ahead, such as the Milan Fast Track Duomo tickets with rooftop access, or the Last Supper entry if you plan to go as this sells out far in advance. You'll find plenty of other tour tickets for sale on sights like GetYourGuide, but for other bits such as the theatre tour, or even the Duomo if you don't mind the queue, it's usually a bit cheaper to buy there and then.
Prefer a tour?
There are lots of tours available in Milan to suit any taste, but a fun one that we did was the Rickshaw tour of Milan, which gave us a bit of free choice with the driver, but also a chance to learn some facts and history at a quicker pace as we weren't staying for a full-blown city visit.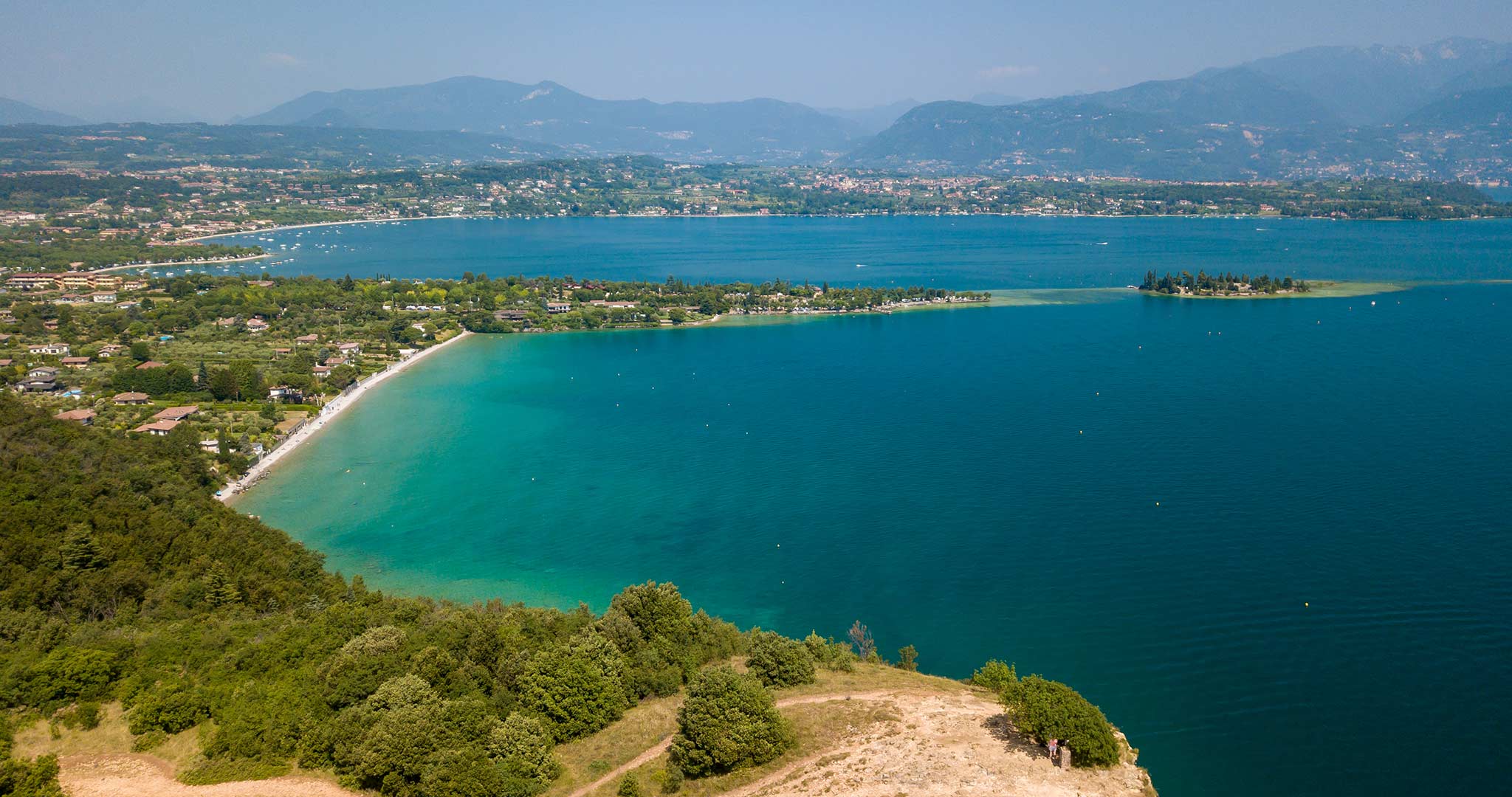 Day Nine: Milan and Lake Garda
Total drive time: 3 hours | Sleep in Lake Garda
After a whirlwind tour of Milan, it's time to escape the busy city life and head to the peaceful shores of Lake Garda. One of the largest lakes in Italy, it actually spans three different regions, but for this Italy itinerary, I'm focusing just on the Lombardy part which has plenty to offer.
What to do in Lake Garda
Manerba del Garda provides some amazing hiking and beach options, with the clear water lapping up against either practically hidden stone beaches, or more sandy shores where watersports are available. For some of the best views hike up to Rocca di Manerba. We used a local guide, Andrea at Millemonti, who helped us find some of the hidden beaches.
There are lots of delightful towns and villages around the lake, but Desenzano del Garda is not only on the easiest to get to, but also adorable. Whether you stop here for lunch, decide to make it your base, or spend time exploring the castle and lazing on the nearby beaches, be sure to pass by.
Sirmione is likely the most famous spot on Lake Garda, thanks to the Scaligero Castle, a fortress on the peninsula with some of the walls in the water. There are also lots of lovely but quite expensive restaurants, and resorts here, and at the far end of the land are the ruins of an old Roman villa.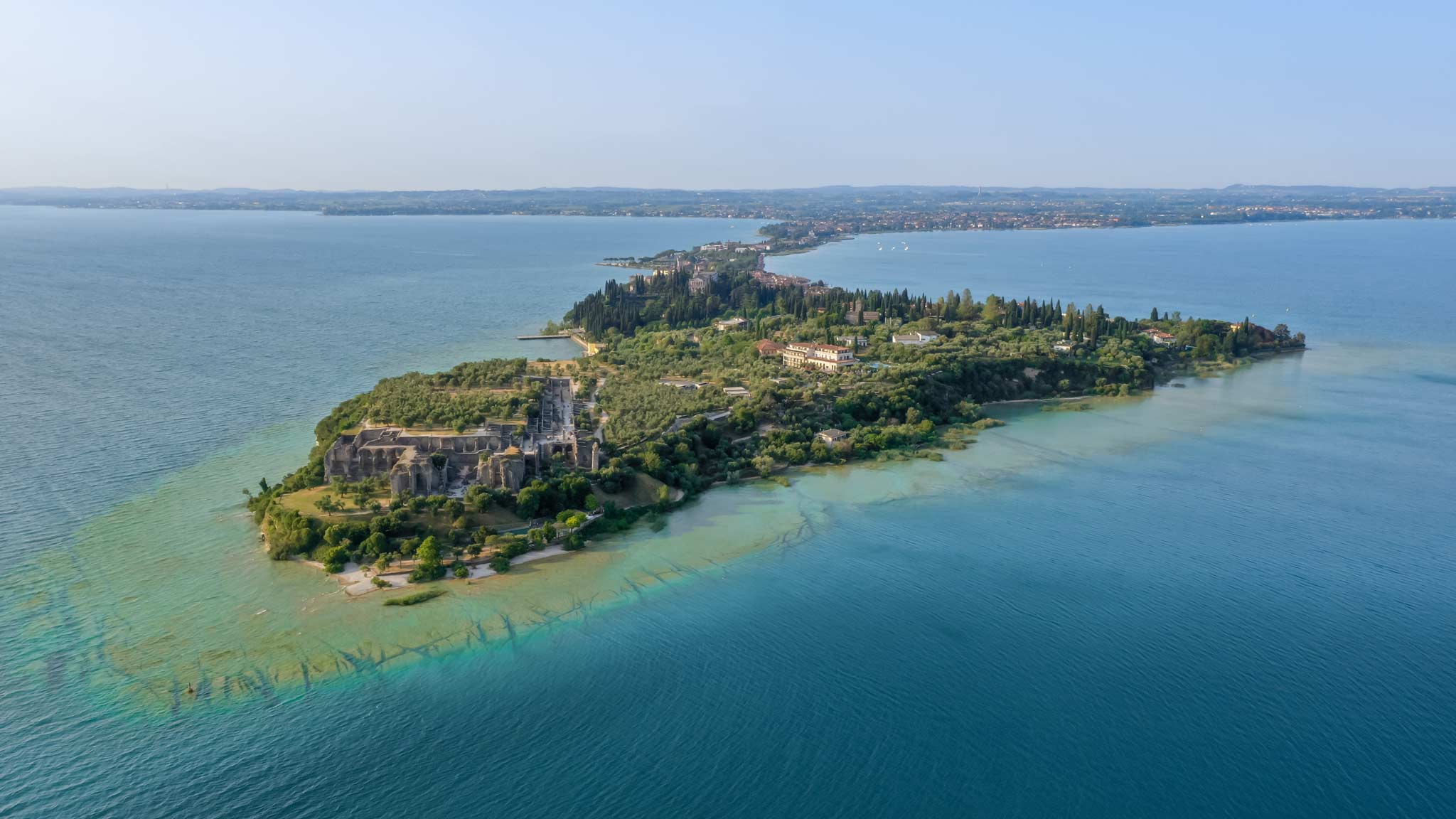 Doing this route by public transport?
If you are coming to Lake Garda by public transport, it might change where you visit. Trains from Milan to Desenzano Del Garda-Sirmione station take around 1.5-hours, and from here you have ferries and buses onwards to Sirmione for example. That said, I found it easy in the summer, but in the off-season, the boats weren't running, and the buses were less regular, so keep that in mind.
Brescia is the principal city here, so a train from Milan to Brescia will also provide other options, such as a bus from Brescia to Manerba del Garda.
Where to stay on Lake Garda
I've made this another two-night stay, as I personally think Laka Garda is dreamy and it's somewhere you should relax in. Sirmione is, of course, the star of the show, but accommodation is expensive here and books out fast. This trip we stayed in basic but welcoming apartments just outside Sirmione, called Daisy Guesthouse.
On my previous visit I stayed in Desenzano Del Garda which I loved, as there are excellent restaurants and gelato places nearby and the hotel was nice and great value: Hotel Benaco.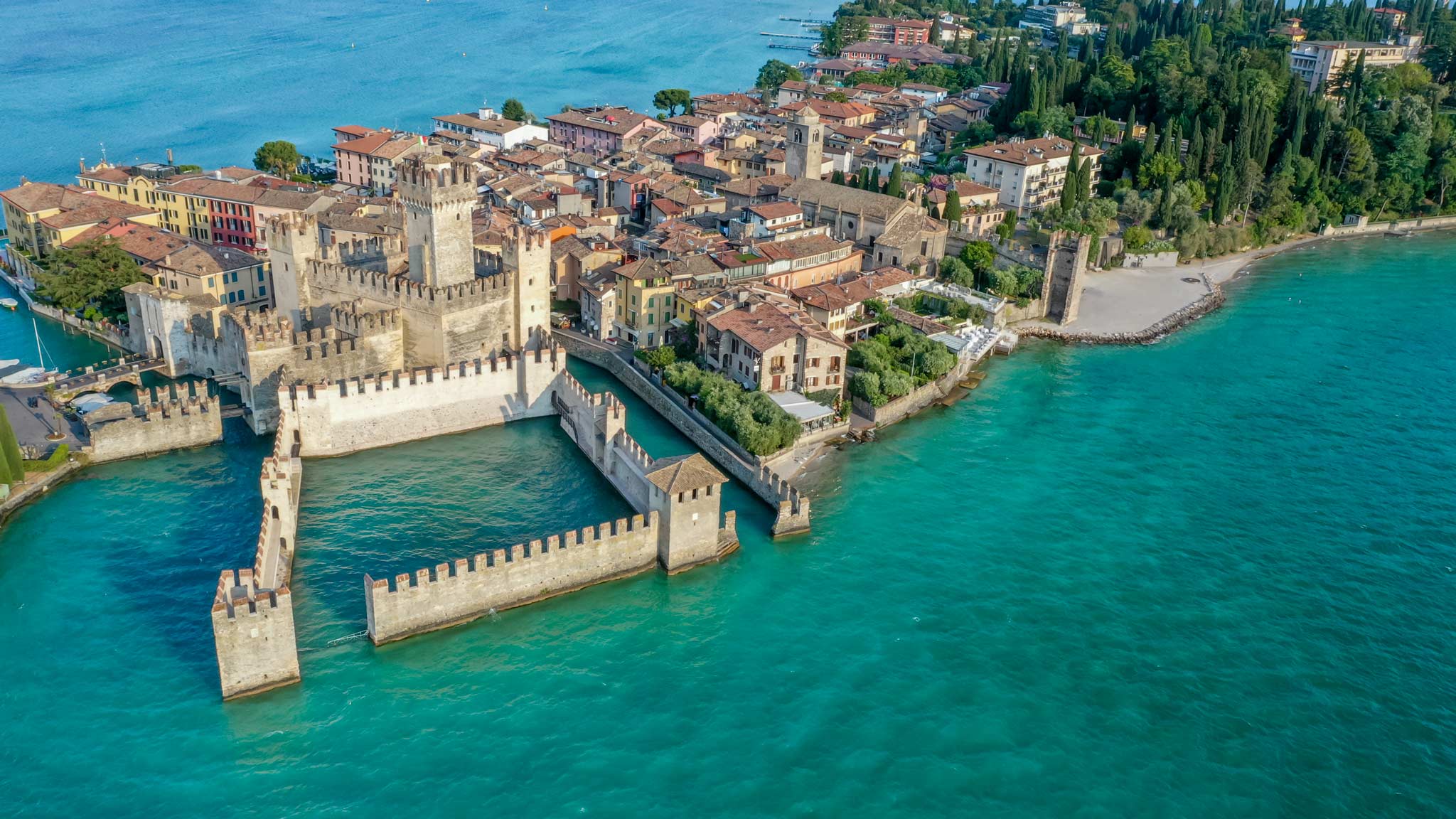 Day Ten: Lake Garda and Lugana
Total drive time: 1-hour | Sleep in Lake Garda
Spent your second day in Lake Garda relaxing and enjoying more of my recommendations from yesterday.
One other idea is to visit Lugana, a wine-producing region by the lake that stretches across both Lombardy and Veneto regions.
We went to Cascina Maddalena to learn more about the vineyard, but also to have a local cooking class which was very garden to table, and then we all got to eat together family-style, literally with the family, and it was a lovely local experience for what can feel like a very touristed area.
Doing this route by public transport?
You'll be using the local buses here, so check timetables, or taxis even as the distances are short.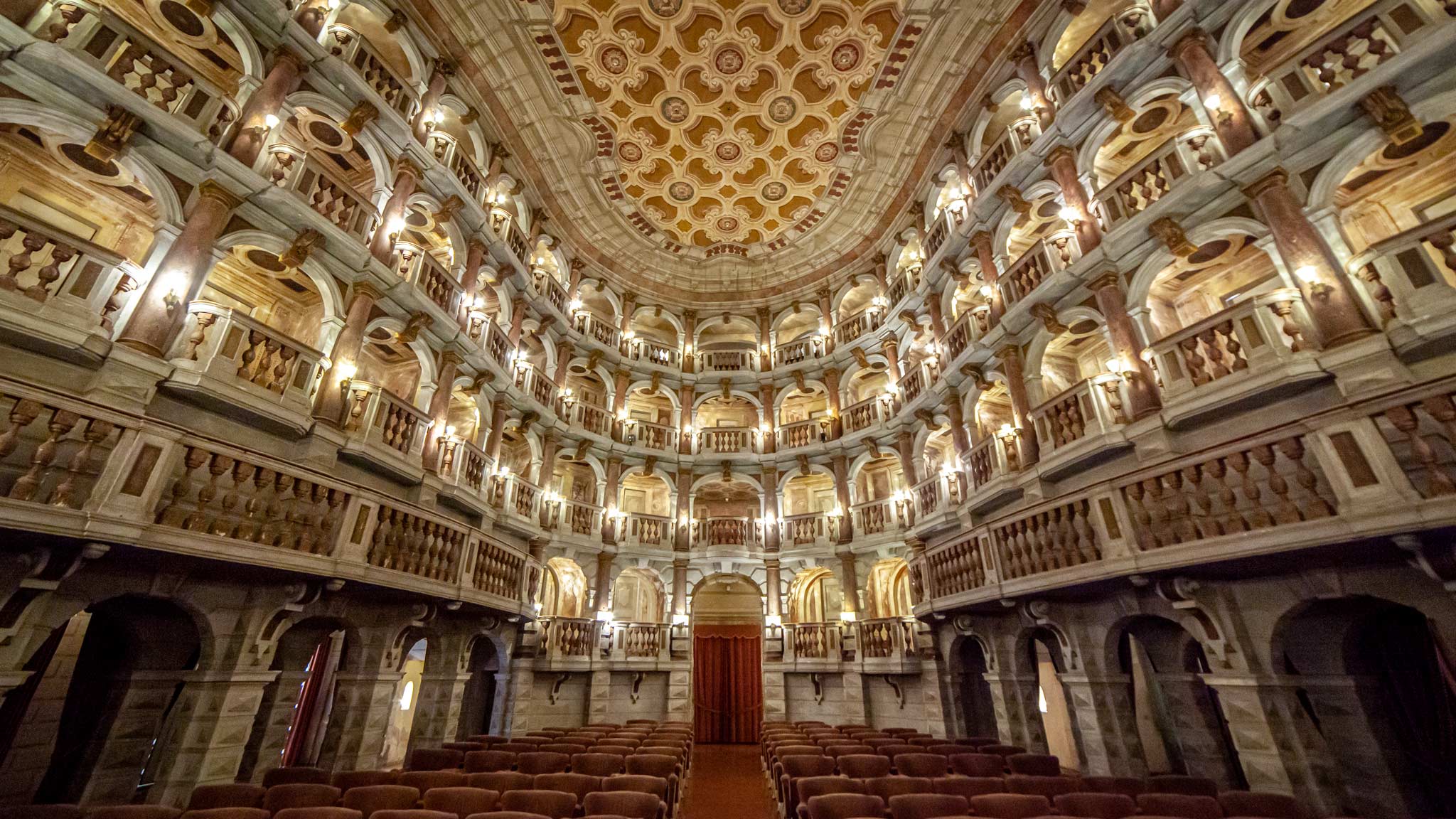 Day Eleven: Mantua
Total drive time: 1.15 hours | Sleep in Mantua 
Wow! What a city, and to be honest I'm surprised this incredible place is somewhat off the beaten path in Italy still, you are in for a real treat in Mantua.
What to do in Mantua
Home to the largest residential building in Europe, after the Vatican, Mantua is packed with art and architectural gems.
The city is surrounded by three artificial lakes, one coated in lilypads and I enjoyed a sunset boat cruise through the lake looking back on the city, very serne.
We have to thank the Gonzaga rulers for most of the grand architecture in Mantua, whose Ducal Palace presents some 600 odd rooms. While only some are open to the public, they are an architectural feast, with grand frescos and beautiful art and this is the highlight of Mantua so don't miss it.
Impressive and worth a visit is the Palazzo Te (which has nothing to do with the drink) which also boasts some grand halls, and perhaps my favourite spot, the Teatro Bibiena, a true Italy hidden gem if ever there was one!
Lastly, be sure to try the local pasta specaility, Tortelli di Zucca, a pumpkin tortellini we sampled at Ristorante Tiratappi, which has a lovely outside deck (spray for mosquitos advised in warmer months) and was where Charles Dickens stayed in Mantua.
Prefer a tour?
If you are looking for an expert on Mantua to help you discover the best of the city, then Lorenzo Bonoldi is the man you need, and runs Visit Mantua tours.
Doing this route by public transport?
If you get back to Brescia, you can hop a bus to Mantua, but the easiest option might be a train from Desanzo del Garda via Verona. If you're planning to travel by train, I'd suggest learning at least the more famous Italian place names and their pronunciation – for example Mantua is actually Mantova in Italian – to ensure no confusion when buying tickets or listening out for your stop.
Where to stay in Mantua
I loved where we stayed in Mantua, the hosts were so welcoming and with just a few rooms in the accommodation but also lounge and dining space, it was super spacious. The rooms were also a good size, and you could see the history of the place through the frescos and wooden beams, so be sure to take a look at Le Casa del Pittore.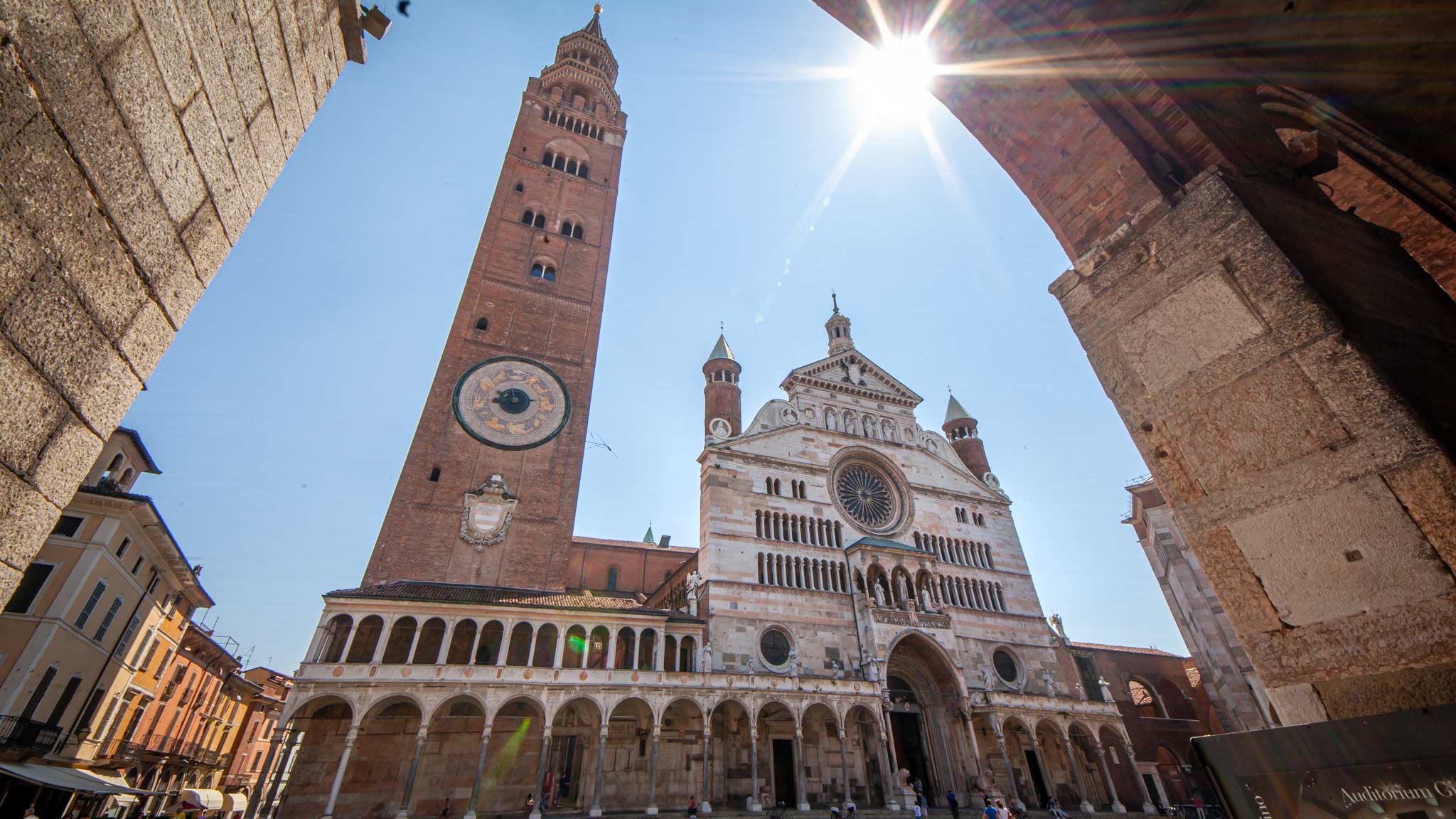 Day Twelve: Cremona – Como
Total drive time: 3 hours | Sleep in Lake Como
Cremona is a city known for its Violin heritage, being the birthplace of one of the most famed string instrument makers, Antonio Stradivari. While there is a museum here dedicated to Violins, I actually found visiting a small Violin Workshop a more exciting way to discover the musical culture of this underrated European city.
What to do in Cremona
Firstly, let's cover the local cuisine which is Mostarda di Frutta, an interesting condiment of candied fruits in a spiced mustard dressing, actually much nicer than it sounds. The city is also renowned for its nougat.
Beyond the violins, there is some lovely architecture to enjoy, such as the cathedral and baptistery, and some fantastic views atop the clock tower which stretch out into the neighbouring region of Emilia Romagna – this also could be a day trip from Bologna.
Doing this route by public transport?
A direct train from Mantua to Cremona is under an hour. From Cremona to Como, you'll need to take a train back through Milan and change there.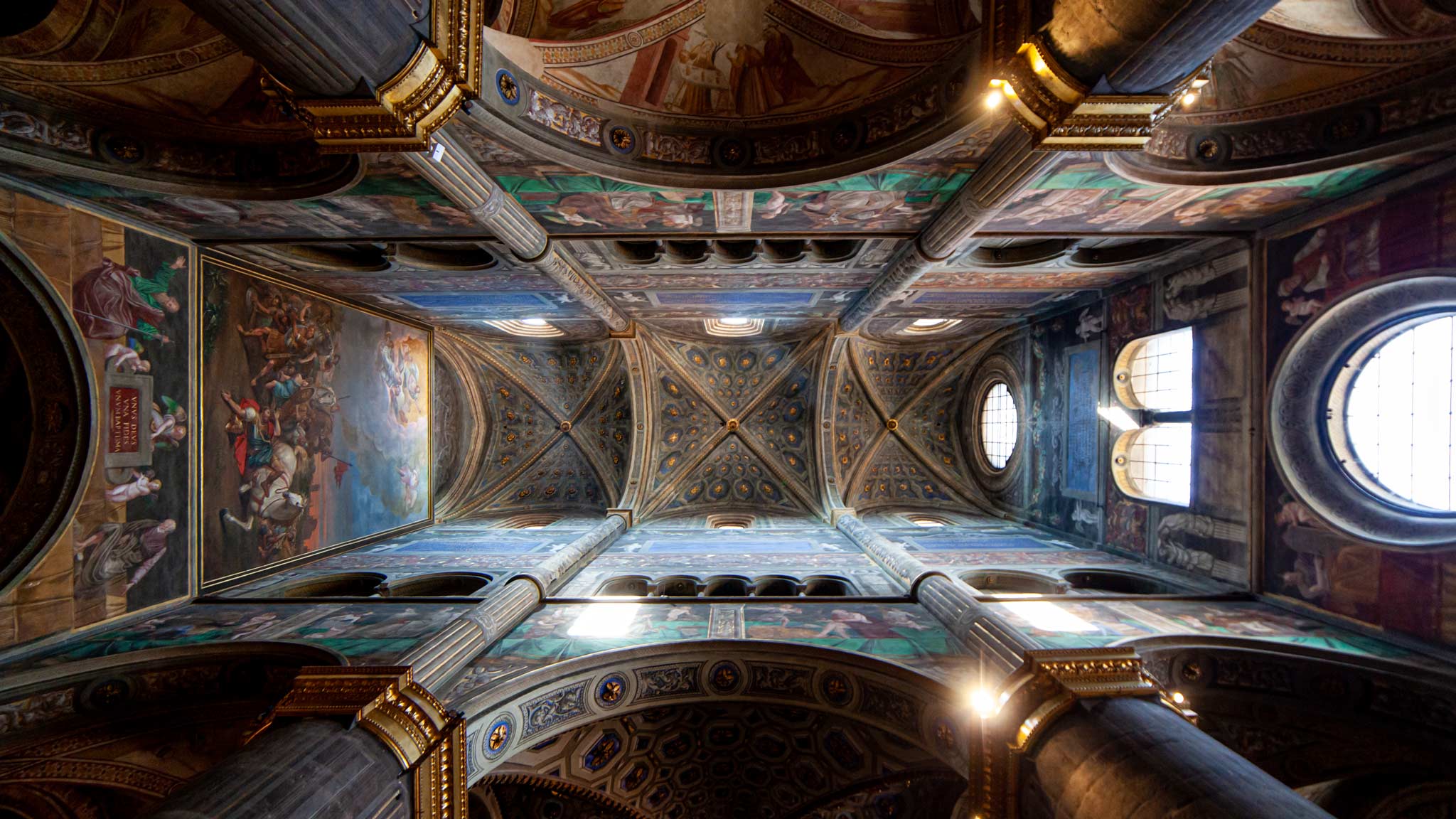 Where to stay in Lake Como
You have so many options in Como, depending on where you decide to call base.
I can personally vouch for the Hotel Metropole Suisse which is on the waterfront of Como town and was lovely, but as I visited in the off-season I didn't stay in any of the other villages around the lake, as most of their businesses were closed in winter.
Where to stay in Cremona
If you decide to stay the night in Cremona and are driving, the Agriturismo Cascina Farisengo which is around 4kilometres out of Cremona might be the perfect option as a restored country house centred around a grand courtyard.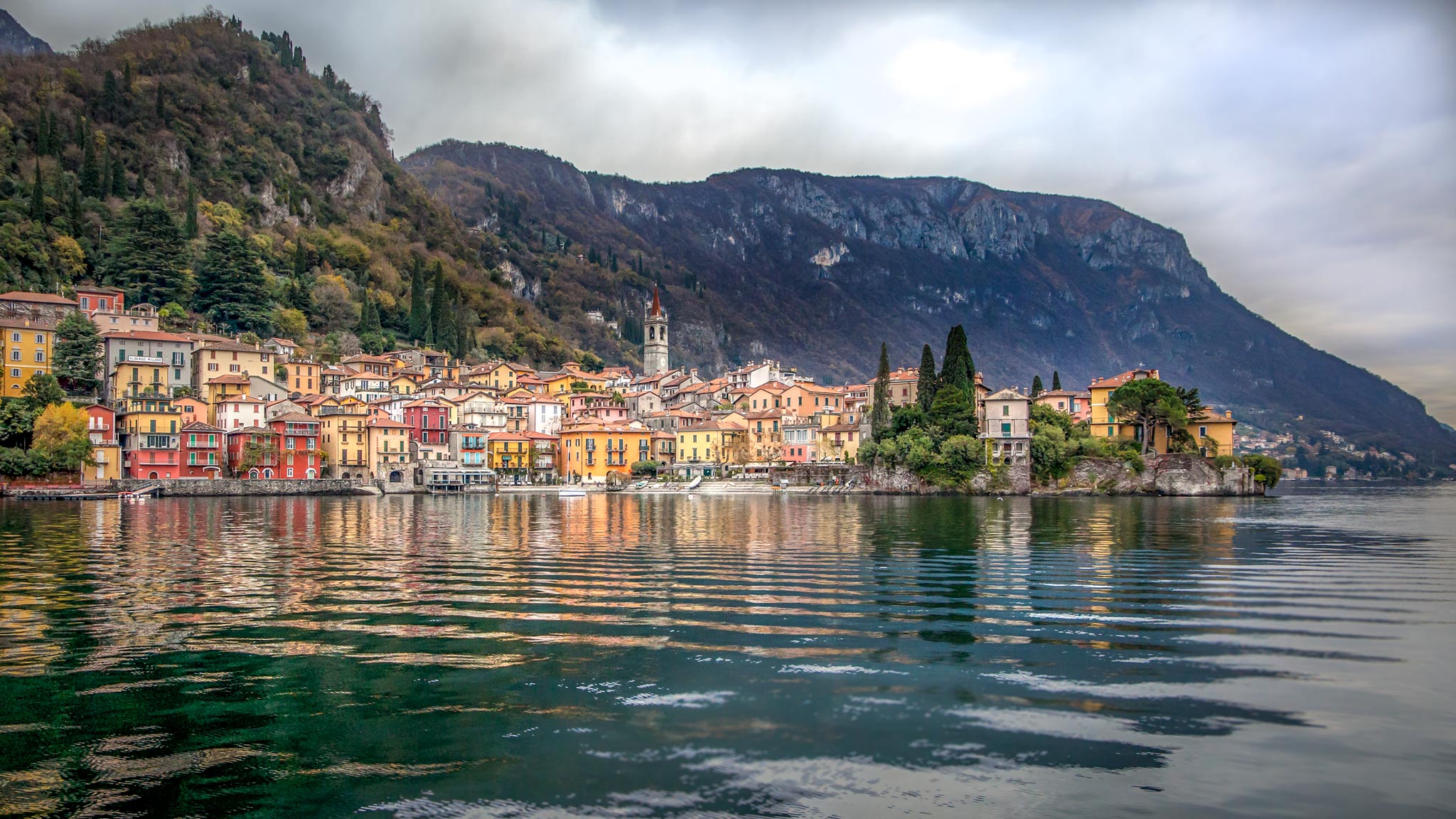 Day Thirteen: Lake Como
Total drive time: None or 1-2 Hours | Sleep in Lake Como
After exploring the culture and city-scape of Lombardy, now its time to head back to the lakes.
What to do in Lake Como
Lake Como has plenty to offer, from relaxing water-side villages of colourful houses to mountain bike trails and hiking.
This is a pretty large lake, so there are plenty of different spots to visit. You should read my guide to a long weekend in Lake Como for some more inspiration.
But, for some starting points, the main sized towns are Como and Lecco, both of which have a hub of shops and restaurants, and excellent transport links out to other destinations.
There are plenty of boat routes on the lake in the primary season, and two of the best places to visit are Bellagio, one of the most upmarket and famed spots on the Lake, and Varenna, by far the prettiest in my opinion.
If you are happy to stick with four wheels and continue your road trip through Lombardy, you'll likely be able to access other options that aren't as regularly visited by the ferries.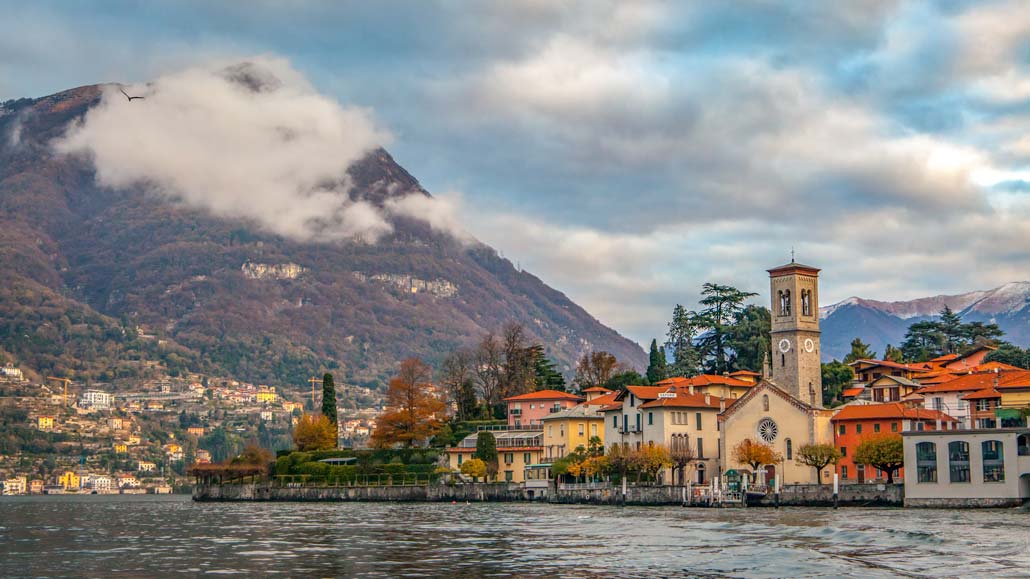 Doing this route by public transport?
There is a network of boats going around Lake Como, obviously more in high season. There are also some busses and trains to the likes of Lecco and Varenna, so plan your route to best suit the options available I'd suggest.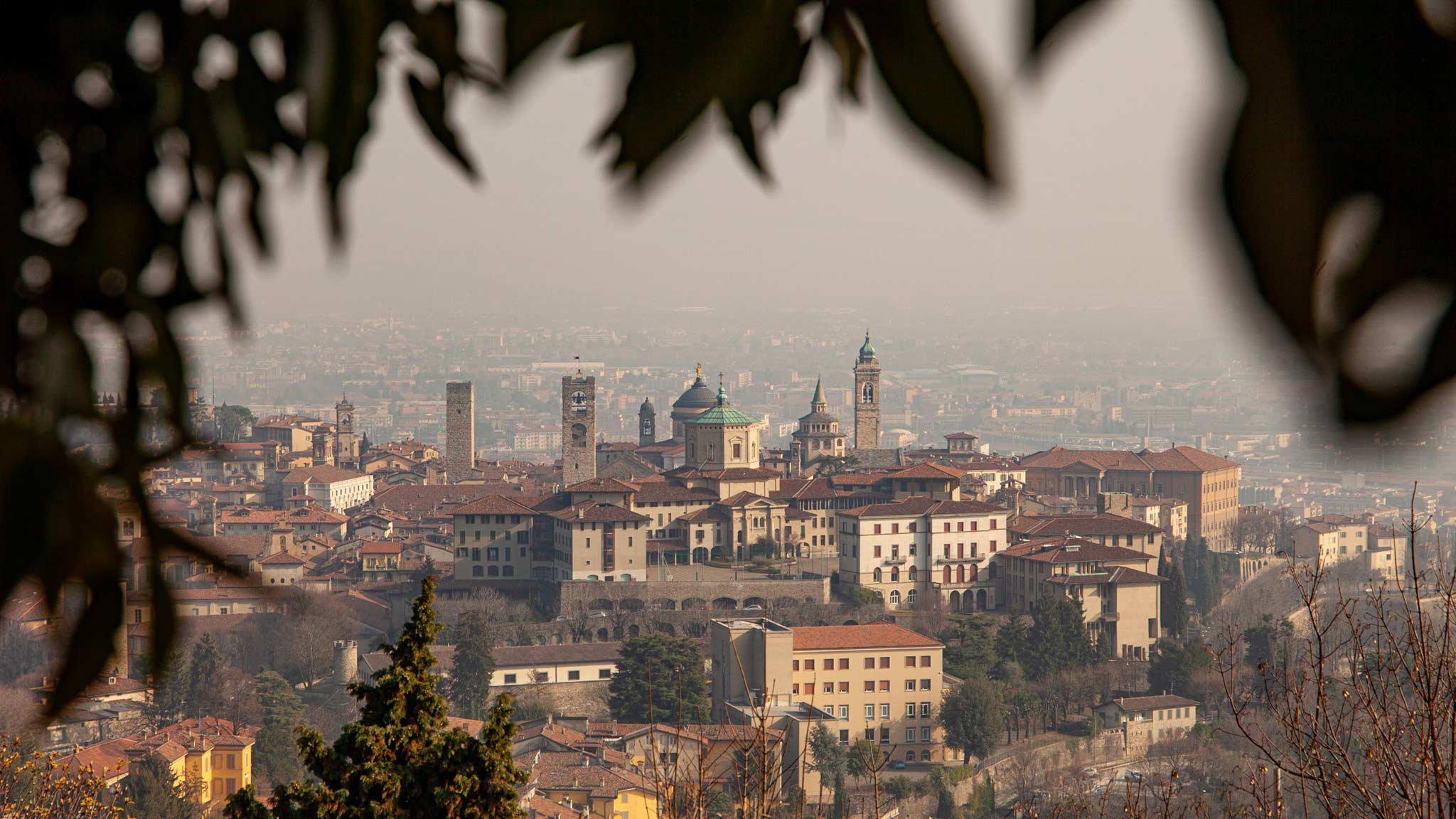 Day Fourteen: Bergamo / Travel Day
Total drive time: Approx 2 hours (Depends on which airport)
And here we are, at the end of an epic Italy itinerary from Puglia to Lombardy, but there is time to fit in one last stop.
If you are flying from Bergamo then this is a no-brainer, otherwise, hopefully, you flew up from Bari to Bergamo and explored the city then. If you are flying onwards from Malpensa or Linate, you likely won't want to detour here, but perhaps would spend your last hours at Lake Maggiore which is close by Malpensa instead.
What to do in Bergamo
The main draw of Bergamo is the Città Alta, the fortified part of the city which sits above the not quite as interesting modern part.
There are numerous viewpoints here; some reach by funicular, others at the top of buildings, with the architecture around the main square of particular note thanks to the cathedral and porticos surrounding it.
Doing this route by public transport?
If you are heading straight back to Milan for a flight, then from Como you can get trains into central Milan. Have a google at the best transport options as it will depend on which airport you are flying from. To get from Como to Bergamo, it's often suggested to take the train back to Milan, but there is a bus a few times a day that would cut out going back into Milan.
Where to stay in Bergamo
If you decide to stay the night in Bergamo, then there is both a surprisingly high quality hostel here with dorms and privates that I've stayed in before. Alternatively, stay in the Citta Alta is one of the smaller B&Bs or private apartment rentals. If you have an early morning flight though, you might want to stay nearer the airport or drop off the car before exploring Bergamo.
How to get to Lombardy and Puglia: If visiting by air, then flying into Bari is the most obvious option, although Brindisi airport further south also provides international flights and is a good starting point for this particular road-trip. If you are coming from within Europe, there are a flight options to both airports from around Europe.
If you are coming from outside of Europe, then you may need a connecting flight. You should be able to book a multi-city flight, from say New York – Brindisi, and then Milan back to New York. To do this, use a 'Multiflight Search' on the likes of Skyscanner, this will mean your luggage is checked through.
When booking your connecting fligth from Puglia (Bari) to Lombardy (Milan) – you can also include this in your Multiflight search to see the price, but to be honest, you might find this flight cheaper and with more timing options if booked seperately as the budget airlines of Europe don't code share, so have a look at booking that options on its own.
Car hire and driving in Italy: Make sure you have your international driving permit for Italy. Car hire costs will vary between season, but I suggest using a car-search platofmr to find the best value. You won't be going too off the beaten path on this roadtrip, so no need to have a supercharged car.
Be aware when parking for restirctions, which can change from space to space and will be marked on signs. A lot of places allow free overnight parking, but you may need to move them. Also, parts of some Italian cities have restricted zones that you may not be able to go into, even if others have – this will usually be followed with a fine letter a month later. Most of the times the signs are just in Italian though, so keep an eye out!
*I visited Puglia as part of a campaign with Lombardy and Puglia tourism boards, highlighting how easy it is to #DoubleYourJourney through Italy and see two different sides of the country in one trip.
Source link:https://www.danflyingsolo.com/puglia-lombardy-italy-two-week-itinerary-roadtrip/